Toyota's Advanced Hybrid Models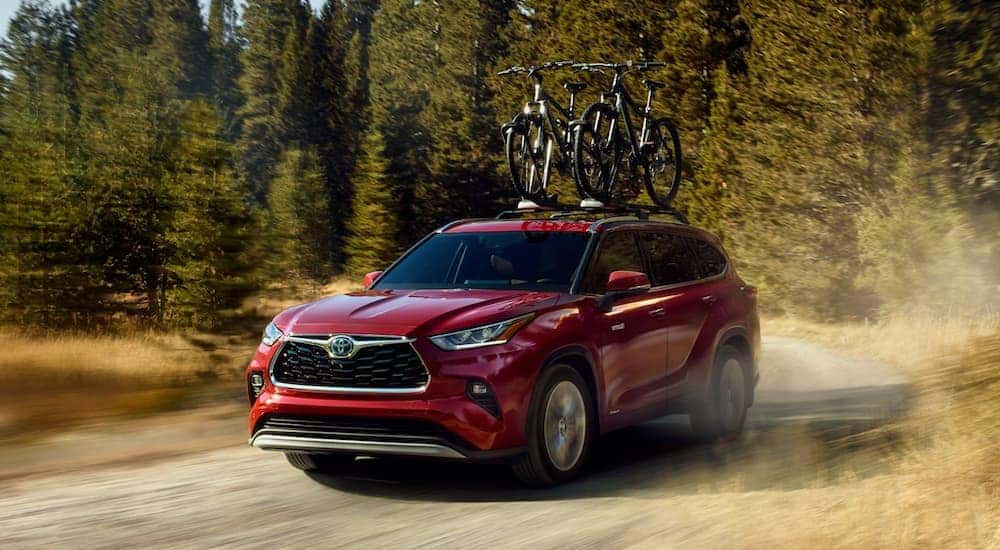 Toyota has the top of the ladder for hybrid innovation, thanks to the original Prius anchoring the hybrid model lineup. It's still a perennial favorite among hybrid vehicle buyers, and judging by its consistent sales volume, that's not likely to change anytime soon. Head to any Toyota hybrid dealer, and they'll tell you the Prius still flies off the lot, but you may be surprised to learn that Toyota's hybrid vehicle offerings aren't limited to just the Prius. In fact, some of America's favorite Toyota models are available with a hybrid powertrain.
In a press release from January 2020, the company celebrated its achievements in alternative fuel technology, observing how Toyota hybrid cars have evolved from "rolling science experiments" to highly competitive and faster, performance-oriented options. It's true, according to a 2020 Deloitte Global Automotive Consumer Study, which reports that consumer preference for engine type is shifting slowly to electric. In 2019, 62 percent of survey respondents indicated they'd only buy a car with gas power, but in 2020 that number dropped to 53 percent.
In the 20 years since the Toyota Prius debuted in North America, Toyota has consistently spread hybrid technology across much of its lineup of cars, trucks, and SUVs, committing to research and development even when consumers weren't completely convinced. Today, you can find everything from sedans to mid-size SUVs in a hybrid form on the showroom floor. These vehicles aren't just about fuel economy anymore; they're responsive and just as performance-oriented (if not more so in some cases) than their gas-powered siblings.
Here are a few of our favorite Toyota hybrid models, but they're only the tip of the iceberg. We recommend visiting a Toyota dealer to see the full lineup of model options. If you haven't checked out a Toyota hybrid, now is the perfect time to do so.
2021 Camry Hybrid
Everyone loves the Toyota Camry because it symbolizes reliability and practicality, and has since its debut in 1983. The Camry is a big reason why Toyota is one of the top-selling import brands in America today, so you can be sure that any shake-ups in the Camry lineup are well-thought through. That's why the Camry Hybrid is so exciting.
Starting at just $27,270 and delivering fuel economy ratings of 51 MPG city and 53 MPG highway, the 2021 Camry Hybrid is a classic sedan with a twist. There are four trims to choose from – the base LE, the SE, the XLE, and the XSE. Opt for the SE or XSE, and you'll get a sport-tuned suspension that sharpens handling and delivers an even more responsive driving experience.
Speaking of performance, it's a key focus for Toyota because today's Camry is a sportier, more exciting version of itself regardless of the trim you choose. That's thanks in part to the Camry's 4-mode drive switch. With the touch of a button, drivers can choose from four settings – Normal, Sport Mode, ECO Mode, and EV mode – to adapt the Camry's throttle response and, when in EV mode, switch to full-electric power for a quieter zero-emissions ride.
2021 Highlander Hybrid
The mid-size Highlander SUV combines elegant good looks and surprisingly agile performance with serious truck-like capability making it a perfect vehicle for busy families. Starting at an MSRP of $38,410, the Highlander Hybrid is the next logical step for Toyota's Highlander model lineup, and it offers buyers significant fuel economy with up to 36 MPG city and 35 MPG highway, despite its larger size.
Offered in front-wheel drive or all-wheel drive, the Highlander Hybrid is equally equipped to handle the carpool line or a stretch of rugged mountain terrain. Opt for the available electronic on-demand all-wheel drive system and enjoy a dedicated drive motor that automatically sends power to the rear wheels to significantly improve traction. The Highlander is built on Toyota's New Global Architecture (TNGA-K) platform, which is responsible for its enhanced handling and the more soundproofed, quieter cabin.
Technology is everywhere inside the Highlander Hybrid, starting with the massive 12.3-inch infotainment touchscreen. It's compatible with Apple CarPlay and Android Auto, so streaming your favorite podcast or music apps is as simple as pressing a button on the screen. The system is also Amazon Alexa-compatible, so drivers can safely use voice commands in place of the touchscreen.
2021 Sienna Hybrid
Did you know that every Sienna trim is a hybrid now? That's because Toyota has brilliantly deduced that minivan buyers value a low cost-of-ownership, and the Sienna's fuel economy rating of up to 36 MPG city and 36 MPG highway gets them there. There are not too many minivans left to choose from because the category is shrinking, but most of them deliver less than 20 MPG in the city and 25 MPG on the highway, making the Sienna a real standout.
The 2021 Sienna starts at just $34,460 and comes in five distinct trims: the base LE, the XLE, the XSE, the upscale Limited, and the top-of-the-line Platinum, which will set you back close to $50,000. The Sienna offers seating for seven and, when you choose the Platinum, you'll get high-end luxury features like heated seats and steering wheel, a wireless smartphone charger, and a clever Bird's Eye View Camera that gives drivers a 360-degree view of the outside of the vehicle.
Safety is another concern for minivan buyers, which is why Toyota includes several standard driver-assist safety systems in the Sienna. You also get a rear-seat reminder that alerts drivers to check the back seat if it detects the rear doors were opened before the vehicle is driven. The Sienna features 10 standard airbags in all the right places, protecting occupants in the event of a crash. Plus, the standard Toyota Safety Sense includes a suite of driver-assist systems that can help drivers avoid a crash altogether.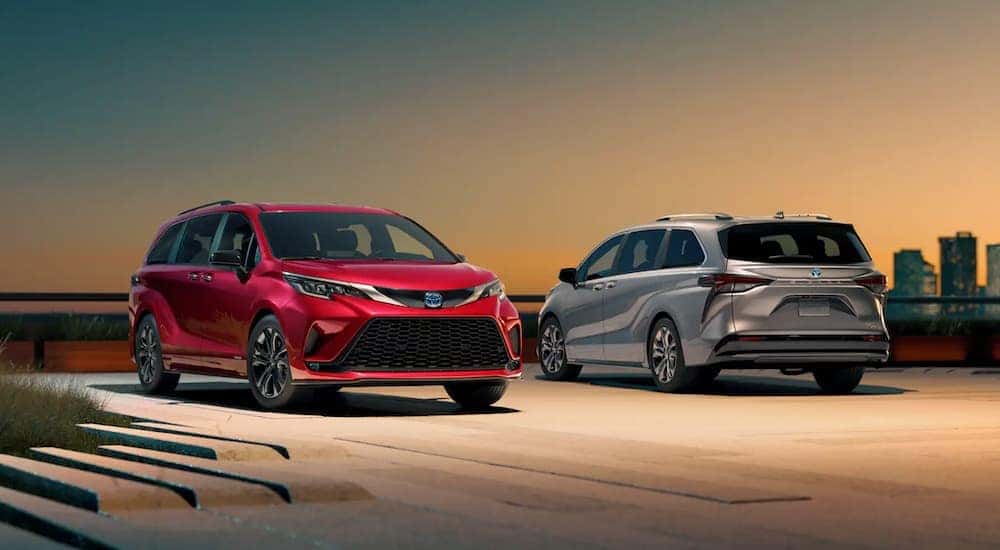 Hybrid History at Its Core
Since the Prius debuted in 1997, Toyota has sold more than 15 million electric vehicles, and that doesn't count the sales made in 2020. The company identifies hybrid technology as a core strategy for its success, and we don't doubt it. Toyota is the first automaker to mass-produce hybrid cars, and that capability is what set the stage for ballooning sales and the introduction of so many different hybrid models.
There are several other Toyota hybrid models available beyond the few we've featured here. Check out the adorable Corolla Hybrid, the subcompact RAV4 Hybrid, the all-new compact crossover Venza, and the upscale full-size Avalon sedan. These vehicles all deliver impressive fuel economy without compromising performance or capability.
Toyota is so confident in its battery quality that the company recently announced an increase in warranty coverage from 8 years/100,000 miles to 10 years/150,000 miles. This lines up well with Toyota owners' tendency to keep their cars for upwards of 10 years and reflects the company's solid commitment to providing highly reliable vehicles – and powertrains – that stand the test of time.
It's Time to Go Hybrid
Consumers are running out of reasons not to choose a hybrid vehicle. The technology employed by Toyota eliminates most consumer concerns, such as range and performance, making a hybrid not only a practical choice but a fun one too. Vehicles like the all-new Venza Hybrid and the Sienna minivan aren't even offered with traditional gas-powered engines. That's a sign that Toyota's betting big on customers continuing to show interest in alternative fuel cars. If you are ready to switch over to a Toyota hybrid, visit Colonial Toyota to see the whole lineup of hybrid options for you to choose from.