Titan vs Tundra – Which is the Better Pre-Owned Truck?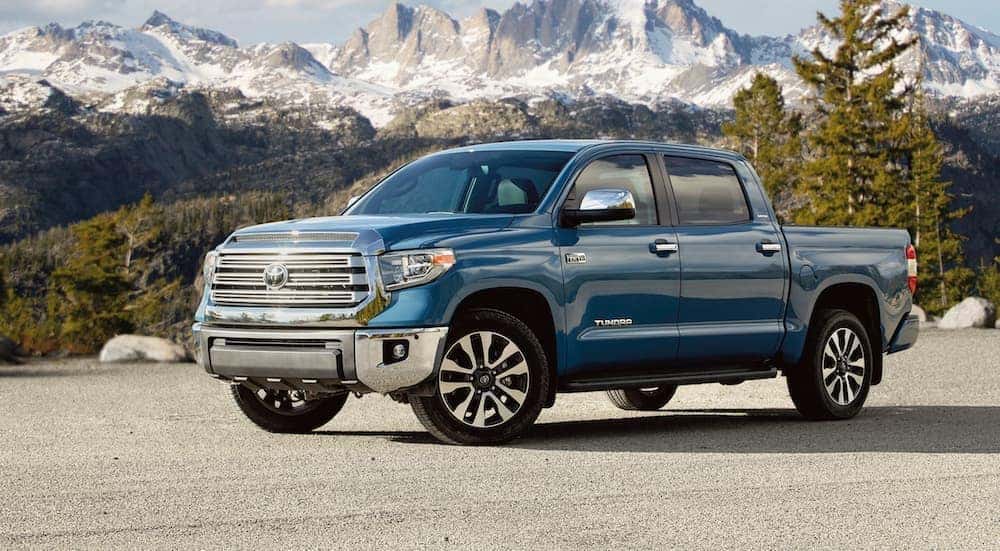 When folks think of buying a used full-size truck, they tend to think of Big Three: Ford, Ram, and GM. But if those are all you think of, then you are doing yourself a big disservice since two of the best full-size trucks are built by Japanese automakers. When you are looking for your next used full-size truck, you should take time to visit a used Toyota Tundra dealer or hunt down a pre-owned Nissan Titan trader. These two trucks will surprise you with their combination of rugged dependability, exceptional performance, and innovative technological features.
The Tundra and Titan have won so many awards between them that if the Olympics had a used full-size truck event, these two would be competing for the gold medal. Stop into Colonial Toyota when you're ready for your next full-size truck, and we'll show you why you should make your next truck a used Toyota Tundra or Nissan Titan. Conveniently located in Indiana, Pennsylvania, we proudly serve drivers all over the southwestern Pennsylvania region, with plenty of great used Tundras and Titans for sale in all different trims and configurations, so you are sure to find the used truck that is perfect for you.
Legacy of the Two Models
Both the Toyota Tundra and Nissan Titan have been around for many years, providing you with plenty of different model years to choose from when you are buying one used. Toyota introduced the Tundra in time for the 2000 model year and has gone on to build two generations of this full-size truck. The second generation was heavily updated in 2014, so any Tundra you buy on or after that year will give you the most features and performance. There is also news that an all-new Toyota Tundra will be hitting the roads sometime in 2022. This means that you should be able to get a great deal on a used Tundra, since every time an automaker introduces a new generation of a model, the prices for used examples will drop somewhat as many drivers focus on the new truck.
The Nissan Titan debuted just a few years after the Toyota Tundra during the 2004 model year. Nissan continued to build the first-generation Titan until 2016, when it introduced a more rugged and advanced Titan. This second generation is still being built today, so the looks and specifications of the current Nissan Titan are similar to those that first appeared in 2016. However, there was an update in 2020 that dropped the Cummins diesel engine from the lineup and added a handful of more modern tech features.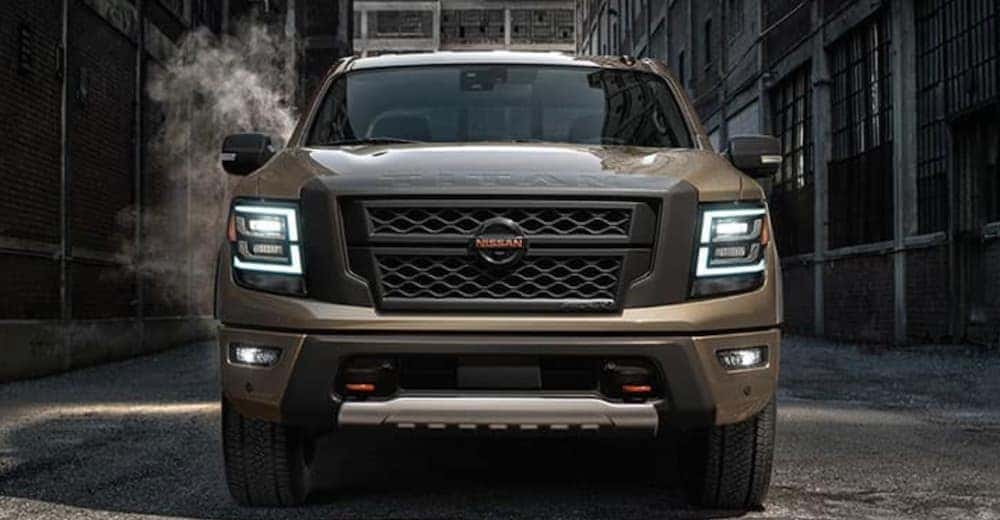 Award-Winning Trucks
Another thing these two trucks have in common is that they both have won their fair share of awards. For example, the Toyota Tundra was named a Top Safety Pick by the Insurance Institute for Highway Safety ("IIHS") from 2011 to 2013. This means that even an older used Tundra is still an exceptionally safe choice to drive.
In addition to safety, drivers like to know that their trucks can hold their value over time. This is why Toyota fans were excited when Kelley Blue Book identified the 2019 Tundra as having the best resale value in its segment. What this means to you is that if you buy a used Toyota Tundra, it will hold its value over time. As you know, all vehicles are subject to depreciation. This is caused by the fact that movable equipment like trucks suffers a loss of value due to wear and tear over time. The fact that the Tundra does not depreciate as fast as other trucks is a testament to the work of the Toyota engineers who designed this truck and the workers who built it so that it will last longer for you than if you buy other used trucks.
The Nissan Titan has also won its share of awards, showing that the automotive industry thinks highly of this truck. In 2019, J.D. Power named the Titan the top large light-duty pickup. This was in comparison to other trucks, including the Tundra, as well as the Ford F-150, Chevy Silverado 1500, Ram 1500, and GMC Sierra 1500. What's more, the Rocky Mountain Automotive Press named the Nissan Titan with the King Cab the 2018 Rocky Mountain Pickup Truck of the Year. Finally, if you are considering using your used truck for off-roading, then you should consider buying a used Nissan Titan PRO-4X, as this version of the Titan won the Best Value Extreme Off-Road category at the Active Lifestyle Awards in 2017.
With all these awards, it is surprising that more people don't know about just how great a used Tundra or Titan will perform. But maybe knowing more about the value of these trucks will give you the edge over other drivers since you will know to look for these two great used pickups.
Configurations and Drivetrains
One thing to keep in mind when looking for a used truck is the cab style. As you may know, there are three basic cab types. The first type has two doors and one row of seats and is commonly referred to as a regular cab. The second has two full-size front doors and two smaller rear doors with two rows of seats. This type of cab is called a Double Cab by Toyota and a King Cab by Nissan. Finally, the largest cab style has four full-size doors and two full rows of seats. Toyota calls this a Crew Max, while Nissan calls it the more common Crew Cab label.
If you are looking to use your used truck primarily for work, then you should consider getting one with a regular cab, as these tend to be less expensive than other cab styles. Also, regular cabs reduce the weight of the truck, boosting your towing capacity. While the Nissan Titan is available in a regular cab, Toyota stopped offering the Tundra with a regular cab after the 2017 model year, only building trucks with a Double Cab or Crew Max. Nissan continued to offer the Titan with all three cab designs until the 2020 model year, when it also dropped the regular cab from the lineup.
Another thing that the two trucks have in common is their optional drivetrains. Both the Toyota Tundra and Nissan Titan are offered with either a rear-wheel drive or four-wheel drive. The benefits of having rear-wheel drive on your used truck are that it will give you more capacity for cargo and the capability to tow heavier trailers. Getting a used truck with four-wheel drive improves traction, a key factor for handling in inclement weather. It is also a necessity if you plan to drive your used Tundra or Titan on off-road trails.
Engines and Performance
Full-size trucks require powerful engines to perform up to their abilities, and the Toyota Tundra and Nissan Titan don't disappoint in this area. From 2015 on, the second-generation Tundra offers drivers a choice of two different V8 gas engines: a 4.6-liter with 310 horsepower and 327 pound-feet of torque, and a larger 5.7-liter with 381 horsepower and 401 pound-feet of torque. However, after the 2019 model year, Toyota made the larger 5.7-liter engine standard on all Tundra models. Nissan also has a standard 5.7-liter V8 gas engine in the Titan, which produces 390 horsepower and 394 pound-feet of torque.
As you can see, Toyota focused on torque for the Tundra while Nissan emphasized horsepower on the engine it chose for the Titan. As a result, the Tundra will be slightly better at towing trailers, with a maximum capacity of 10,200 pounds compared to the 9,310-pound maximum capacity on the Titan.
Finally, Toyota has equipped the engine on the third-generation Tundra with a 6-speed automatic transmission. Nissan originally chose a 7-speed automatic transmission for the second-generation Titan, but upgraded it to a 9-speed automatic transmission for the 2020 model year. As a result, you should expect a little more responsiveness and control from the Nissan Titan.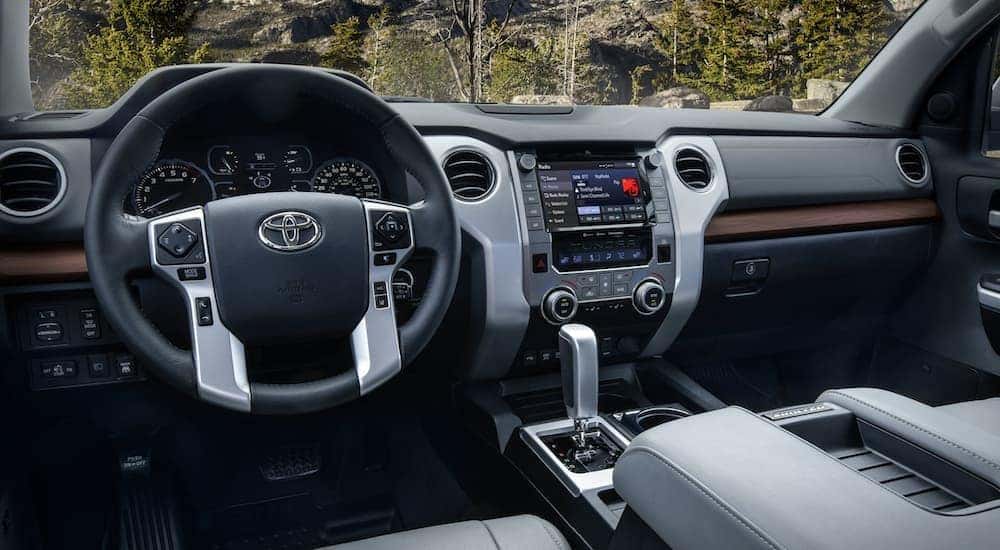 Available Technology
Both the Toyota Tundra and the Nissan Titan feature the respective infotainment systems of their manufacturer. The Tundra is equipped with the Toyota Audio Plus system, while the Titan has NissanConnect. However, the exact features will vary based on model year. For example, older models may not have wireless connectivity or Android Auto and Apple CarPlay compatibility. Also, the touchscreens on both models have gotten larger over the years. For instance, the Titan featured a 7-inch touchscreen until 2021, when Nissan began to use 8-inch and 9-inch touchscreens for the NissanConnect system on the Titan.
Two Great Used Trucks
When you buy a used Toyota Tundra or Nissan Titan, you are getting a used truck that is a legacy of award-winning greatness, and that includes the improvements made over the last two decades. You are also going to get a great deal on a truck with all the features you want, including a powerful V8 gas engine with the ability to tow heavy trailers and carry plenty of cargo. So, instead of buying one of the usual trucks, check out a used Tundra or Titan, and see why these great trucks keep on racking up awards.