5 Vehicles Perfect for Lucerne Mines Drivers
For our drivers who live in Lucerne Mines, we know you often need to travel to work and that many of you have a commute up to half an hour long. Winter can be especially tricky with all the snowfall, and driving on back roads in the hills takes skill to manage. As your Lucerne Mines Toyota dealer, we put together a list of a few great models for Lucerne Mines drivers to consider for handling the often snowy and rainy weather specific to our region. When winter weather can strike six months out of the year with an average of a foot of snow, you need a vehicle that can drive over snowy and icy roads in the hills. We are going to highlight some 2020 models so you can get an idea of the features you will see available on a used model or that you may get on a new model.
#1. 2020 Jeep Wrangler
Everyone knows a Jeep Wrangler has the best capability of any SUV on the market, and 2020 models come standard with four-wheel drive that includes drive mode selection ideal for winter driving or handling sloppy back roads in the rain. With the standard 3.6-liter V6 engine, fuel efficiency is 21 MPG combined, but the optional 2.0-liter four-cylinder engine gets slightly better mileage at 23 MPG combined. A hybrid option with the 4xe trim is available, starting with the newer 2021 models. Features found on entry-level models include 17-inch wheels and fog lights, and the standard ground clearance is 9.7 inches. A bonus of the Wrangler is that any trim can take on trails or ford water (with care), though if you go for the Rubicon trim, you get the most capable Wrangler with 10.8 inches of ground clearance and loads of off-road features.
Safety features are excellent for slippery conditions like electronic brake force distribution, brake assist, traction and stability control, and hill start assist are all standard equipment on every Wrangler. Additional standard features go above and beyond what most manufacturers offer with a limited-slip differential to prevent axles from spinning, roll stability control, and tow hooks for recovery if you happen to get stuck. An option for an engine block heater is available for any trim level and is especially recommended for a Wrangler with a diesel engine. This is one of our top picks for driving in any precipitation, and the Wrangler is well-suited to tackling hills that may be muddy or covered in ice. Available features like heated seats, steering wheel, and exterior mirrors can be found in upper trims, along with the option for remote start.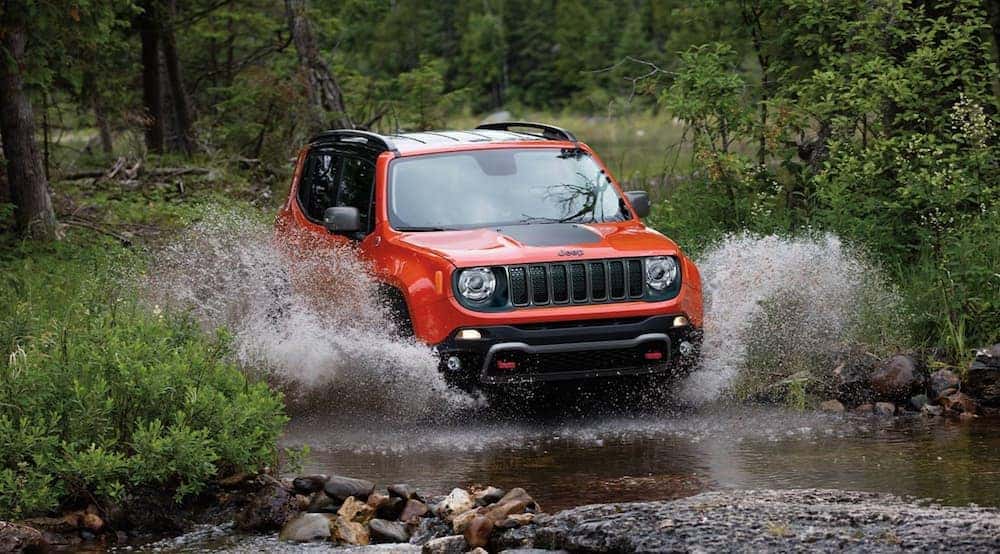 #2. 2020 Renegade
If a Wrangler seems like overkill for the kind of driving you see on your daily commute, the Jeep Renegade might be a better fit. Even though it's a compact SUV with better ride quality on paved roads, it still offers much of the off-road capability found in the Wrangler with available four-wheel drive in the Limited and Trailhawk trims. All-wheel drive is available for all other trims, and with the standard 1.3-liter four-cylinder engine, you get a fuel efficiency of 27 MPG combined. The optional 2.4-liter engine gets 25 MPG combined. Ground clearance for most models is 6.7 inches, and the trail-ready Trailhawk raises to 8.7 inches for better driving in deep snow or mud. Water fording is also possible with the Trailhawk trim.
Standard features for all 2020 Renegade models start with 16-inch wheels and halogen headlights but bumping up to the Upland trim gains fog lights, 17-inch wheels, tow hooks, all-weather floor mats, and remote start. Safety features that automatically engage include electronic brake force distribution, brake assist, traction and stability control, hill start assist, and roll stability control. Forward collision warning is also standard, and an optional engine block heater can be added to any trim. For excellent capability in snowy or rainy weather, the Renegade is a great SUV that is well-suited to both paved roads and backcountry driving.
#3. 2020 Subaru Forester
For drivers who contend with snowy weather, it's well known that the Subaru Forester is one of the best winter vehicles on the market. The standard all-wheel drive system is full-time and handles adverse road conditions almost as well as a Jeep. Ground clearance is also one of the best at 8.7 inches, and fuel efficiency is quite good for an SUV at 29 MPG combined for its 2.5-liter four-cylinder engine. Standard features for the entry-level trim include 16-inch wheels and LED headlights, and automatic safety features like brake assist, electronic brake force distribution, traction and stability control, and hill start assist are all included. The addition of standard torque vectoring differential adds more capability for snow and mud.
Subaru has made its Eyesight driver-assist safety features standard for all models, and many of the features are best suited to driving on roadways. Forward collision alert with emergency braking and the driver fatigue alert are two features that are likely to help drivers in poor weather conditions, especially if your drive has lengthened due to poor visibility or bad roads. Discovering a Forester in the second-tier Premium trim level will reward buyers who want standard heated front seats, hill descent control, heated mirrors, and a windshield washer de-icer. Fog lights can be added to any trim and are a feature that can be handy in the hills on low visibility days.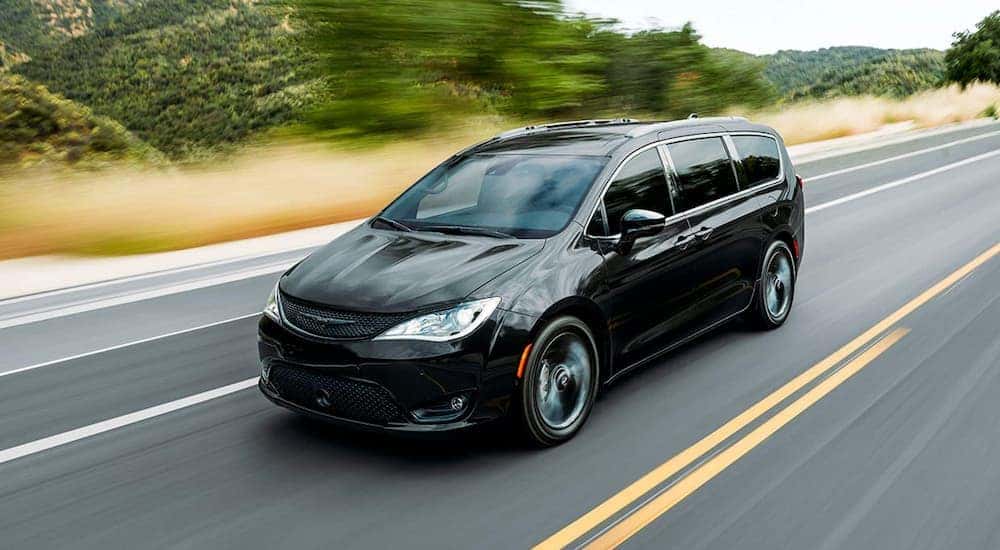 #4. 2020 Chrysler Pacifica
You may be surprised to find a minivan on our list, but the Chrysler Pacifica actually handles very well in the snow when equipped with optional all-wheel drive. If you need a family vehicle that has a lot of room for both people and cargo, a minivan is the best choice. The standard 3.6-liter V6 engine in the 2020 Pacifica gets 22 MPG combined, and a hybrid option is available for better fuel efficiency. Ground clearance is lower than the other vehicles included in this list, but it's still higher than most cars at 5.1 inches. Standard features for entry-level models include 17-inch wheels, heated exterior mirrors, LED brake and daytime running lights, and halogen headlights. The inclusion of an auto-dimming rearview mirror makes night driving more comfortable, and fog lights are a bonus standard feature on all models.
Typical automatic safety features such as electronic brake force distribution, traction and stability control, brake assist, and hill start assist are all standard equipment. Driver-assist safety features are comprehensive and include handy systems like a 360-degree surround-view camera, automatic high beams, automatic emergency braking, and a blind-spot monitor. Having the standard rain-sensing wipers is another bonus you won't find on most entry-level vehicles. Cold weather features like heated front seats can be found in the second trim, and the third trim level adds heated seats to the second row. Any trim could have the cold weather package or the engine block heater added for more winter weather preparedness.
#5. 2020 Toyota 4Runner
When it comes to capability, the Toyota 4Runner is the closest to the Jeep Wrangler as any off-road vehicle on the market. Where the 4Runner excels is its longevity, with reports of these vehicles lasting as long as 25 years. A major benefit of the 4Runner is the passenger space for up to seven people in three rows, and it has a standard ground clearance of nine inches. Fuel efficiency is low, though this is a large truck-based SUV with a big 4.0-liter V6 engine. Expect the fuel economy to be around 17 MPG combined. Standard features like 17-inch wheels, LED brake and daytime running lights, and halogen headlights are on par with most vehicles. Toyota offers bonus features like heated exterior mirrors, fog lights, and windshield wiper de-icer as standard for all trims.
Safety features such as brake assist, hill assist, traction and stability control, and electronic brake force distribution are all present as standard equipment. Then driver-assist safety features like automatic emergency braking and forward collision warning will further serve for safer winter driving. Toyota includes a limited slip differential as standard to prevent slippage in adverse conditions. Moving up to the second trim level offers winter weather comforts like heated front seats and navigation, while the off-road TRD trim includes an electronic locking differential and a Multi-Terrain Select system for driving modes. The option to add skid plates is available for some trims and comes standard with off-road variants to provide underbody protection.