3 Reasons to Want a 2022 Toyota GR86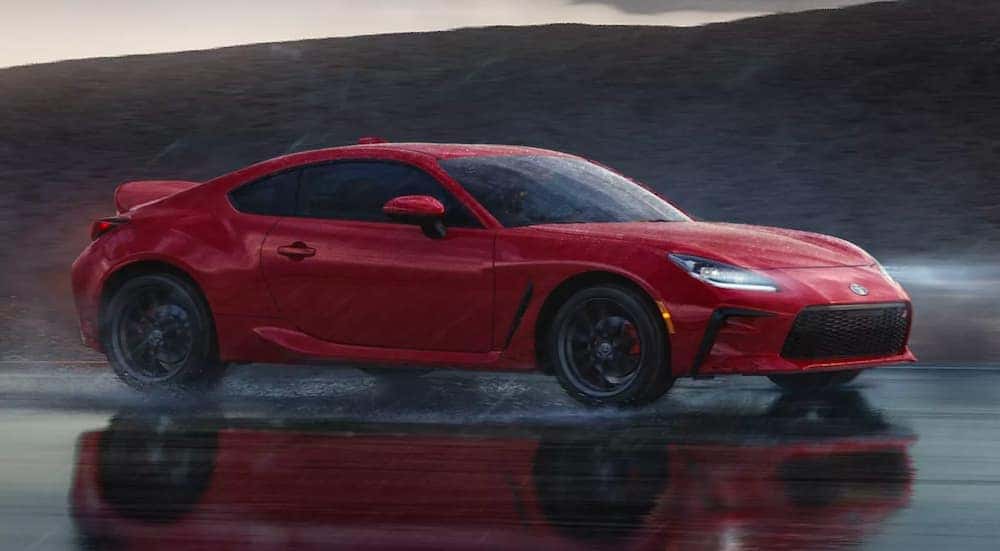 The roar of the engine, the exhilaration of speed – a sports car makes you fall in love with driving all over again. Toyota sports cars are well-known for being high-performing, fun driving machines that enjoy a rich history. The S800 was a stylish vehicle that attracted attention in the 1960s. The MR2 changed the game when it roared down the road beginning in the 1980s. The Celica was a sophisticated version of sporty with its aerodynamic curves that hugged the road on every corner. The Celica morphed into the Supra and became a huge hit in terms of performance and versatility.
Yes, Toyota sports cars span decades of innovation, engineering, and, most of all, fun, but now there is a new Toyota sports car in town, and it's the 2022 GR86. If you love the rush of acceleration and driving like the wind, you'll want to read more about this car. In fact, we'll give you three reasons why you need to contact us at Colonial Toyota to check one out just as fast as this car goes from 0-60.
#1 – For the Love of Driving
A 2022 GR86 will spur your senses with excitement. Driving is not a chore when you accelerate the 2.4L engine that'll get 228 horsepower and 184 pounds-ft of torque. If you are a true sports car aficionado and want to wrap your leather driving gloves around the wheel, go for the standard six-speed manual transmission. You'll love the smooth shifting and purr of the engine as you go from one gear to the next, but you can also have the automatic six-speed transmission should a stick shift not be in your wheelhouse. No matter, you'll zoom from 0-60 in about 6 seconds and experience crisp cornering and fluid acceleration as the dual exhaust hums along.
The GR86 is a true sports car beginning with its name. The GR stands for Gazoo Racing, the award-winning team where this vehicle gets its stamp of as well as undergoing testing on their race track. A buyer lucky enough to procure the 2022 GR86 also receives a one-year complimentary membership to the National Auto Sport Association, including an instructor-led driving event. How cool is that!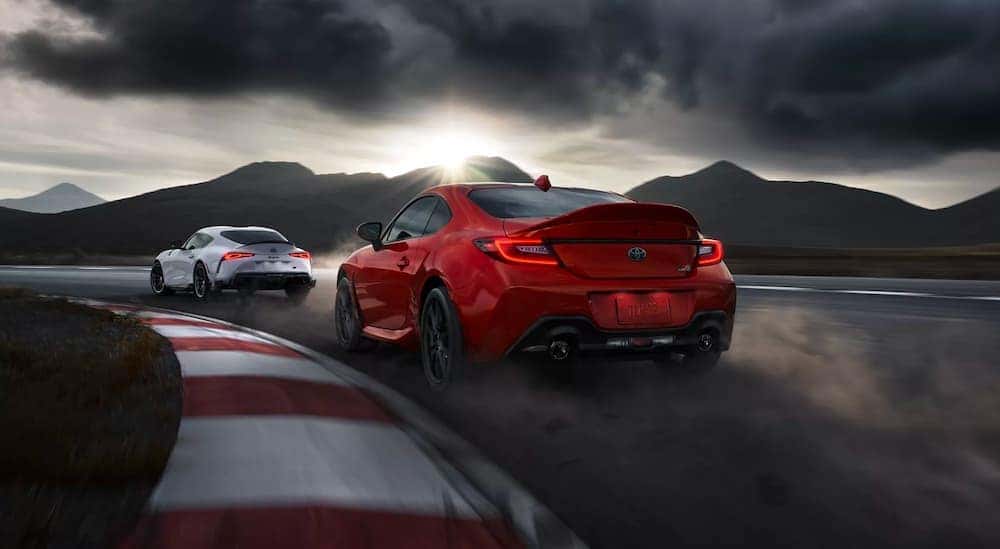 #2 – Fits Your Personality and Lifestyle
The 2022 GR86 is not only a joy to drive, but it is a fit for anyone who appreciates there is more to a car than going from point A to B, and if you are going from point A to B, you want to do it in style. When you whisk down the road in this car, you are making a statement. Even the bold exterior paint color selections evoke a certain attitude with names like Track bRed, Trueno Blue, Neptune Blue, Halo White, Steel Grey, Pavement Grey, and Raven Black.
This versatile vehicle comes with 7-inch digital gauges you can also configure to your own preferences. You can choose normal, sport and track modes. Track mode fulfills your inner race-car driver with real-time readouts of gear, speed, and temperature.
If your lifestyle demands a digital connection, you'll find well-equipped technology in this sports car. The 8-inch infotainment touchscreen is user-friendly and eye-catching. There is smartphone compatibility with Apple Carplay and Android Auto, there are 2 USB ports for charging, and your choice of a 6 or 8 speaker audio system so you can cruise down the highway to the tunes of your preference.
But what if you need more room or have a few more passengers? If your lifestyle demands it, the 2022 GR86 delivers it. The backseat can take on two more passengers, and it conveniently folds down to reveal enough cargo space to store four tires. What if you want a sports car like the GR86, but your personality is a little more risk-averse at times. You'll love the fact that this car has excellent standard safety features, so while you can enjoy the drive, you can do so safely. Features like Pre-Collision Braking, Adaptive Cruise Control, and Lane Departure Warning act as an extra pair of eyes to mitigate danger and keep you confident and controlled while in the driver's seat.
#3 – It's Easy on the Eyes
Some people enjoy looking at fine art, but sports car enthusiasts love the sleek and aerodynamic designs of beautiful sports cars. The 2022 Toyota GR86 has an elegant curved design revealing a wide stance and low center of gravity. The premium 18-inch wheels, along with the dynamic rear spoiler, give it that future-forward look. Inside the vehicle, you can slide into its deep bucket, leather sports seats that cradle you in comfort as you navigate those hairpin turns. The elegant silver trimmed dial gauges, and aluminum pedal covers give you that authentic race-car cockpit feel.
If you're going around the corner to get groceries or taking a long weekend in the country, the 2022 Toyota GR86 will command attention from everyone else. The visual aesthetics are stunning to look at, plus the hum of the engine as you accelerate is like a concert to your ears.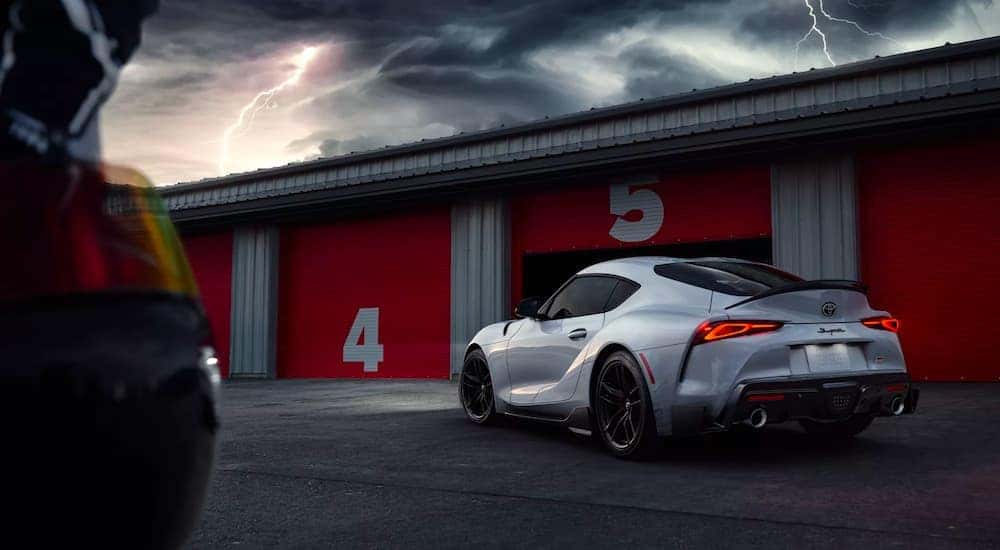 Sporting Tradition of Toyota
Toyota sports cars have been thrilling car drivers for decades. In addition to the GR86, their lineup reinforces performance, fun, and affordability. The 2021 Supra is a great sports car with a turbo engine that gets up to 382 horsepower. The rear spoiler, dual exhaust, and leather-wrapped steering wheel are among the many details that make this Toyota sports car a popular choice.
The 2022 GR Supra A91-CF Edition is also on the horizon. There will only be 600 of these special edition vehicles built, so you will need to act fast if you want to get one. The carbon fiber it is built with gives it strength yet keeps it amazingly light, so it'll be both durable and flexible. This car will go 0-60 in under 4 seconds; yeah, that's fast! If you tack on the black and red leather interior, matte black finishes, and front and rear spoilers, this car is a real contender.
Finally, in recent memory is the 2020 86. The 86 is a six-speed manual or automatic transmission and has a sleek aerodynamic body. The car shifts smoothly through its gears as the driver enjoys the drive more than their destination. This car harkens back to the 1980's AE86 model that encapsulates the spirit of freedom in the form of speed and performance.
Experience the Drive at Colonial Toyota
The best place to get the 2022 Toyota GR86, along with other Toyota sports cars, is Colonial Toyota. Colonial Toyota is a trusted and respected dealer in Southwest Pennsylvania. After 70 years in the car business, our friendly yet experienced team listens more than talks. We are located right in Indiana, PA, and we proudly serve our community in small ways like a free car wash when you stop by or being active in community events.
If you're in the market for a Toyota sports car, keep us at the top of your mind. We love the thrill of driving a high-performance vehicle, and we appreciate how your sports car is a reflection of your personality and lifestyle. We also never forget how beautiful a sports car can be in refreshing your senses and brightening your day. So stop by Colonial Toyota today. We'd love to learn more about you and share more about our lineup of Toyota sports cars, including the 2022 Toyota GR86.