Toyota Strides For Innovation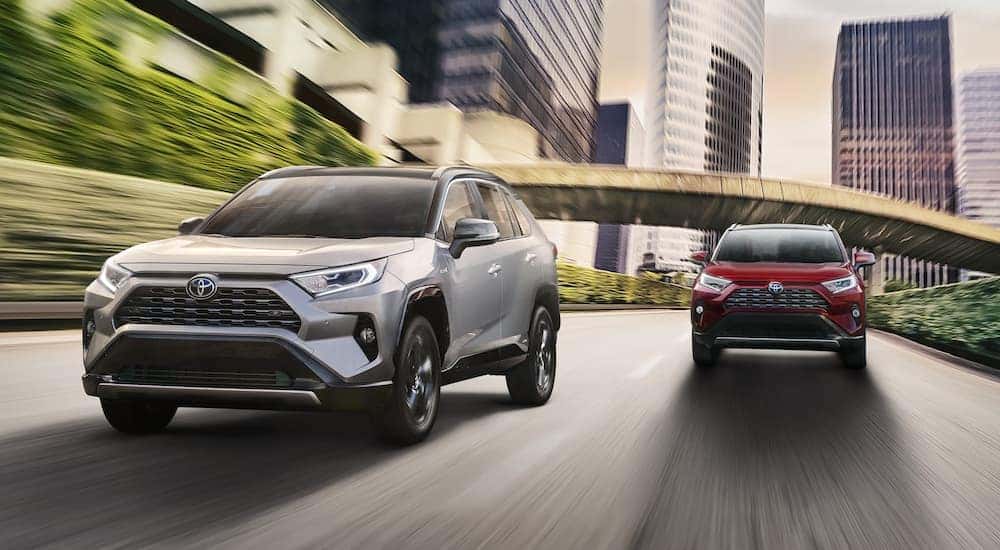 Why Choose Toyota
If you're looking for Toyota models in Indiana, PA, check out the new 2020 lineup of Toyota SUVs for sale at Colonial Toyota. Whether you're looking for an off-roading vehicle such as the Toyota 4Runner, a comfortable ride for family outings such as the Highlander, or maybe you enjoy a mixture of sport and utility, so a RAV4 would be your choice. No matter what you're looking for, we will help you find your perfect Toyota.
The reason for you to consider driving a Toyota has been reaching an all-time high thanks in part to an incredible display of the 2020 lineup of SUVs, and Toyota assures these are vehicles built to last. In 2015, Toyota claimed that 80% of their vehicles were still on the road, which is the highest number of that record among any automotive company on the planet.
Safety First
When we think of safety, we think of Toyota thanks to decades of evolutionary design improvements and accident preventing technologies constantly enhancing the safety of your vehicle. Toyota Safety Sense is one such feature that enhances the safety features for your Toyota and is featured across a wide range of their vehicles. You can expect whether you purchase a Highlander, RAV4, or a 4Runner, your vehicle will be outfitted with Toyota Safety Sense with the latter receiving Safety Sense P which provides many safety benefits of its own while the RAV4 and Highlander receive the enhanced feature set of Toyota Safety Sense 2.0 (TSS 2.0).
What Safety Sense 2.0 introduces to the suite of safety features is Road Sign Assist which identifies street signs as you drive including speed limit signs, yield, stop, and impressively, Road Sign Assist even recognizes 'do not enter' signs and will send off alerts to your multi-information display (MID) which is certainly innovative and could prevent accidents. Another brand new feature to Safety Sense as part of the 2.0 update is Lane Tracing Assist (LTA). What LTA does is provide steering assistance while you have the Dynamic Radar Cruise Control (DRCC) active using information retrieved from the traced path of the vehicle in front of you.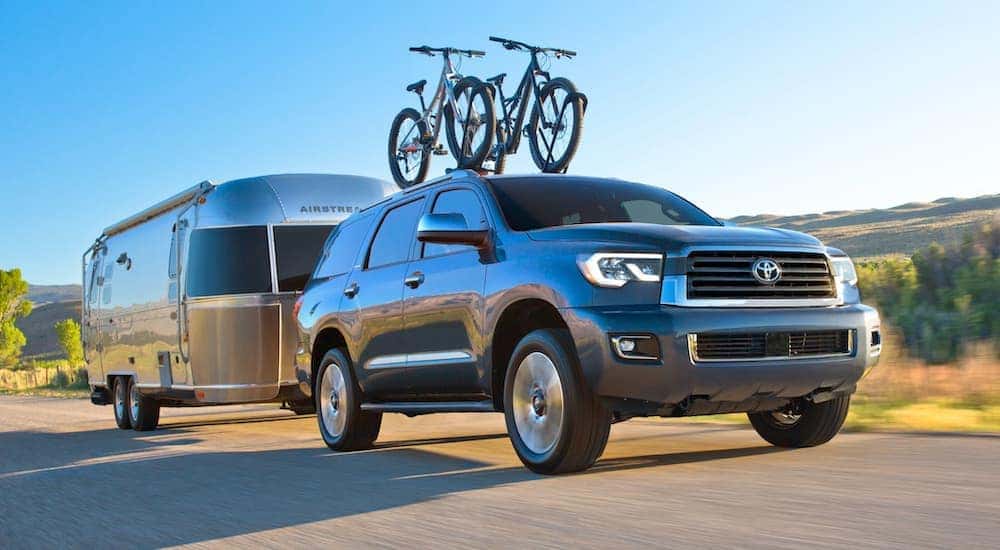 Other improvements to the updated Safety Sense suite include an edge of the road detection to the existing Lane Departure Assist (LDA) technology, which detects lane lines. This is all due to Toyota's efforts to minimize occurrences of the three most common types of accidents; Safety Sense is implemented into your vehicle to prevent frontal collisions, unintended lane departures, and nighttime accidents.
Safety Sense is basically a bundle of safety features combined into one package and provides four systems for driver assistance. First, Safety Sense includes a Pre-Collision System (PCS), which is able to detect when a vehicle collision is imminent and now even detects pedestrians the same way with the upgraded Safety Sense 2.0 and will provide you with both visual and audio alerts. Additionally, if you apply the brake to prevent an accident, Toyota claims that PCS may apply Brake Assist, which will, in turn, give your brakes additional force.
Safety Sense also provides you with the aforementioned Dynamic Radar Cruise Control (DRCC), which is a technology that helps you by automatically adjusting your speed while using cruise control if the forward-facing camera and the grille-mounted radar detects a vehicle ahead of you. Basically, what Toyota has done is include what they're calling a "vehicle-to-vehicle distance control system," which measures out how far in front the driver in front of you is and dynamically adjusts its speed in order to maintain that set distance.
Lastly, Toyota Safety Sense includes Automatic High Beams (AHB), which reduces glare for other drivers on the road and will automatically switch between high and low beams by detecting headlights of oncoming vehicles through cameras implemented inside of your vehicle. This feature overall helps you have better visibility during night time drives.
Toyota SUVs of 2020
Toyota's 4Runner is an SUV that was built for off-roading adventures and comes packed with a variety of technological innovations that give off-roading hobbyists a ride they'll never forget. With a starting MSRP of $36,120, the Toyota 4Runner gives you eight trims to select from, each offering their own feature set, yet they all contain the same powerful engine inside. The engine powering your new 4Runner will be a 4.0-liter V6 engine producing 270 hp and 278 lb-ft of torque with a five-speed automatic transmission.
With this V6, you should expect a fuel economy rating of 17 mpg in the city and 21 mpg on the highway. Each 4Runner comes standard with Apple CarPlay and Android Auto so you can seamlessly sync your wireless device to your vehicle, and your rear-seat passengers will be treated to a duo of USB ports to charge their devices. The safety suite selected for the Toyota 4Runner is Toyota Safety Sense P (TSS-P). If you prefer a 4Runner that's more luxurious and classy and you don't mind sacrificing the off-roading capabilities of the 4Runner, then you can opt for the Limited model, which starts at $44,985 MSRP. What the limited trim offers is an overhaul of your interior with leather seats, keyless entry/keyless ignition, dual-zone climate control, and its entire suspension has been re-engineered to ultimately provide a smoother and more comfortable ride for you and your passengers.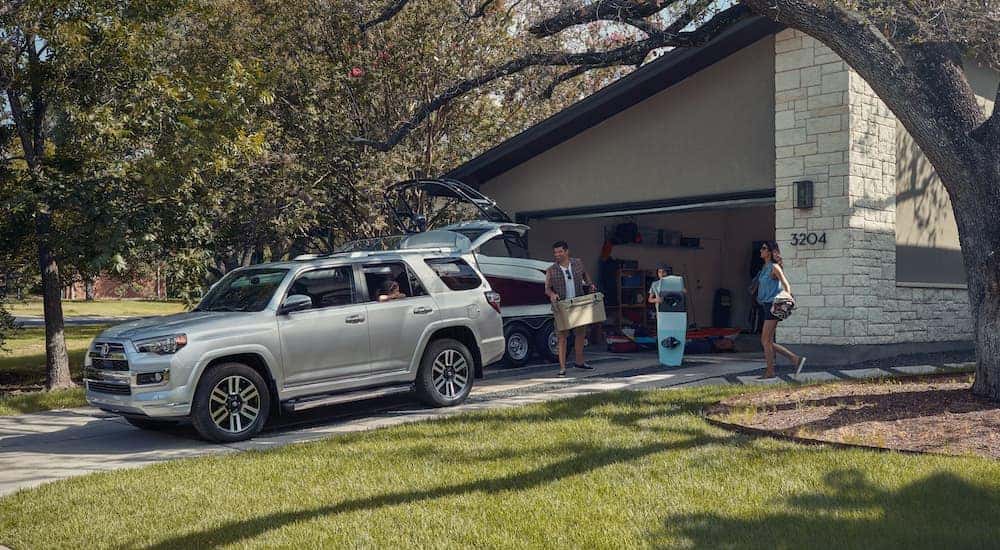 The All-new 2020 Toyota Highlander is an SUV that deserves praise for its ability to fit up to eight passengers with ease while still providing an ample amount of legroom. Every Highlander comes equipped with a powerful 3.5-liter V6 engine that provides 295 hp and 263 lb-ft of torque. What we find most impressive is the engine's ability to support a towing capacity of up to 5000 lbs. With this engine, you can get an estimated 21 mpg in the city and 29 mpg on the highway.
Starting at $34,600, the Toyota Highlander gives you five trims to select from. There is an impressive amount of upgrades available to you to customize your experience to your liking, including an optional best-in-class 12.3-inch touch screen supporting Apple CarPlay and Android Auto, as well as Amazon Alexa. The Highlander's safety suite is the previously mentioned Toyota Safety Sense 2.0 (TSS 2.0) and provides state-of-the-art safety enhancements. Also included with the Toyota Highlander is Wi-Fi connectivity allowing you and your family to connect their wireless devices to your vehicle and gain internet access, and if anyone needs a charge, there are five USB ports for your leisure.
Making Vehicles For Drivers Everywhere
Toyota continues to see success because of their dedication and passion for the automotive industry and giving drivers the vehicles they deserve. Toyota vehicles are something special, and their longevity has only proven this further. You can expect to see Toyota setting the bar high for themselves each and every year to one-up the competition while providing admirable service for millions of loyal fans who love their Toyota vehicles.
Here at Colonial Toyota, we can guarantee you an enjoyable visit to our location thanks to our experienced and hardworking staff. Our staff is always willing to lend a helpful and friendly hand who will help you find exactly what you're looking for through our wide catalog of Toyota models. We believe that together, we can help you achieve greatness with a reliable vehicle at all times.