Top 10 RV Campgrounds Near Pittsburgh, PA
With the many attractions in and around the Pittsburgh, PA area, we thought it would be fun and helpful to tell you about some of our favorite campgrounds that you could enjoy after visiting us at Colonial Toyota. Pittsburgh boasts many tourist attractions such as the Carnegie Museum of Natural History and the Pittsburgh Zoo, so camping in areas around the city will mean days full of fun and adventure. With that said, let's take a look at the best RV campgrounds in the area where you can take your recreational vehicle, kick back and relax by yourself or with friends and family.
Yogi Bear's Jellystone Park
Located about 50 miles southeast of Pittsburgh and only a few miles from Bear Run Nature Reserve, Yogi Bear's Jellystone Park is a camping resort with entertainment for the whole family. This includes a theme park with a number of outdoor activities, along with a water park and Yogi Bear's Wetlands. If you are a fan of the Yogi Bear comic books, television shows, and films, this is a must-see for the whole family. Be sure to check out the pirate lagoon, take a train ride, and visit Boo Boo's spray zone.
There are also nature preserves nearby to explore, and you're close enough to venture into Pittsburgh for dinner or a ball game. This is the perfect campsite for the kids, with pools, water slides, train rides, and a fire truck ride. You'll find full RV hookups for extended stays and RV rentals on-site, as well as a wide variety of camping options. In total, there are 118 wonderful sites available.
Mountain Top Campground
Known for its spacious campsites and beautiful views, Mountain Top Campground is only 20 miles northeast of Pittsburgh. Nearby attractions include the Allegheny River and Deer Lakes Park, as well as the Butler-Freeport Community Trail, Great Allegheny Passage, and Three Rivers Heritage Trail. This is a great place to relax and enjoy the view. You will find the larger sites a bonus and appreciate the beautiful countryside. Mountain Top Campground has 158 RV sites, full hookups, and back-in and pull-through sites.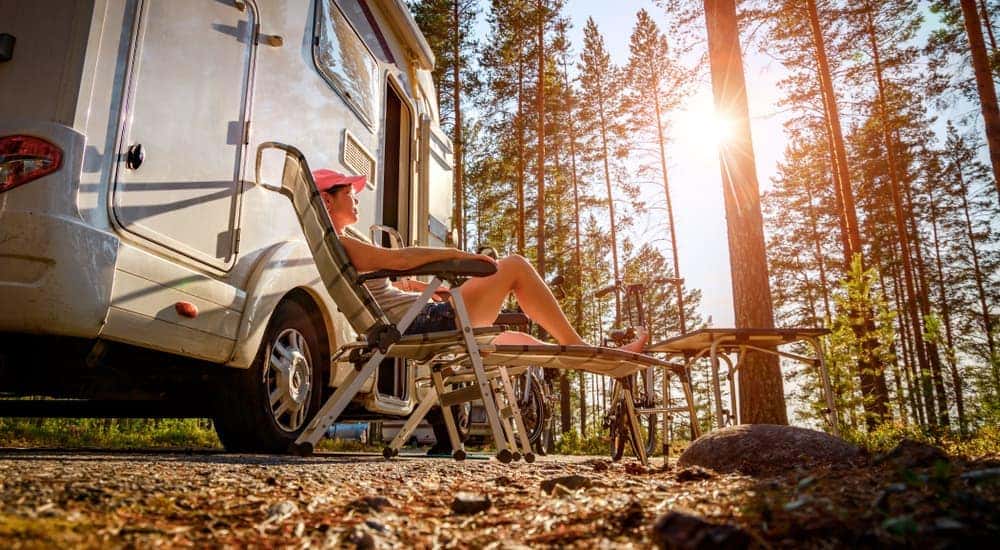 Fox Den Acres
One of the largest campgrounds in the Pittsburgh area, Fox Den Acres is in the Laurel Highlands countryside just outside New Stanton. Conveniently located by Interstate 76 and only 30 minutes from Pittsburgh, this is an excellent destination for both overnight travelers and seasonal campers. With over 100 pull-through sites and the ability to accommodate the biggest of RVs, you are sure to find a spot even in the busy season. Be sure to check out Idlewild Park, Fort Necessity National Battlefield, and Laurel Caverns while you're here. Fox Den Acres has a total of 350 RV sites and full hookups and back-in and pull-through sites.
Smith Grove Campground
Kid-friendly and with a diner and store on the property, you can't go wrong with Smith Grove Campground. Only 30 miles northeast of Pittsburgh, Smith Grove encompasses 56 acres of wooded terrain among the hills and valleys. This is an ideal vacation spot to check out the surrounding area, where you will find Moraine State Park nearby as well as state game land for hunters. The camp owners also organize weekend events and outdoor sports for the kids, making this an ideal summer vacation destination for your family. With affordable rates and a public pool, playground, and lake, Smith Grove is a perfect base camp for exploring the area. Full hookups and showers are available at Smith Grove Campground, and pets are allowed.
Uniontown KOA
Located about 35 miles south of Pittsburgh and on the Youghiogheny River, you'll find boating, swimming, and fishing as some of the many things to do at Uniontown KOA. When you aren't playing in the river, be sure to check out the Laurel Caverns, Connellsville Canteen, and Frank Lloyd Wright's Fallingwater. This is a great basecamp for all of your adventures, including hiking, fishing, and photography. And just a short drive away, you'll find Bear Run Nature Reserve, Roaring Run Natural Area, and state game land. The camp features a store, game room, swimming pool, and boat launch, so there is no end to the fun at Uniontown KOA. Uniontown KOA has a total of 130 RV sites, full hookups, and both back-in and pull-through sites.
Mirror Lake Campground
If you are looking for a cozy campground with nearby fishing and a place to relax and get away from it all, then Mirror Lake Campground is for you. About 50 miles east of Pittsburgh, this is the rustic getaway we all need. And with plenty of amenities on-site and New Florence a short drive away for supplies, you'll have plenty of time for relaxing. Fish the pond or nearby creek, explore Pine Ridge Park, the Laurel Highlands, or state game land. Mirror Lake Campground has 62 back-in RV sites.
Indian Brave Campground
Only 25 miles north of Pittsburgh, you'll find Indian Brave Campground not far off Interstate 79 near Harmony. With readily available access to grocery, supplies, and restaurants in town, this is a truly convenient place to stop and relax. If you are new to the area, be sure to take a trip into Pittsburgh and then head north another day to see Lake Arthur, less than an hour away. Other nearby attractions include Moraine State Park, the local Amish communities, Carnegie Science Center, and the Pittsburgh Zoo.
A great feature of the campground is the shops and restaurants just around the corner from the campground. Another great feature is the pool, and we're sure your kids will agree with us. The campground itself sits on a peninsula on the Connoquenessing and Scholars Run creeks. Indian Brave Campground features 200 RV sites, both back-in and pull-through sites, and full RV hookups.
Bear Run Campground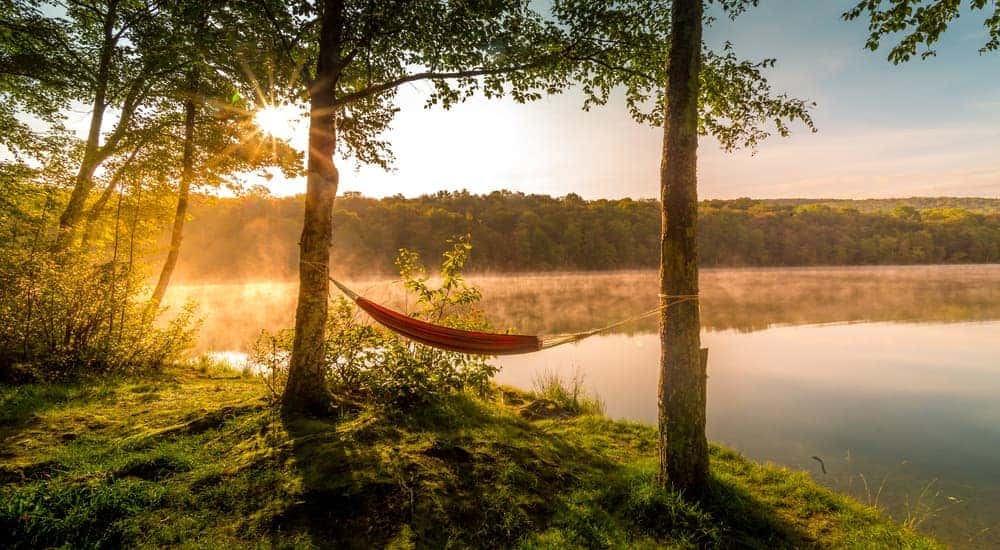 Speaking of Lake Arthur, Bear Run Campground is located just south of the lake about 35 miles north of Pittsburgh. This is a great place to explore the lake, whether you want to swim, fish or kayak. Here you'll find an affordable RV park perfect for the whole family. The campground itself features a heated pool, canoe rentals, camp shop, and outdoor sports. And nearby you'll find McConnells Mill State Park and Moraine State Park to explore. You can also rent kayaks for only $35, which gets you 5 hours on the lake. For overnight stays, Bear Run Campground offers 300 RV sites with both back-in and pull-through sites, all equipped with full hookups.
Rose Point Park Campground
Near Lake Arthur as well, just 10 miles west, Rose Point Park Campground features 208 back-in and pull-through sites, a swimming pool, and a creek for fishing. Only 40 minutes north of Pittsburgh and near Brush Creek Park, this is a great place to spend some time with the family.
Hart's Content Campground
Near Lake Arthur as well, Hart's Content Campground is about 40 minutes north of Pittsburgh and features many amenities for extended stays and for summer activities. Pets are allowed, and there's a camp store, as well as cell reception and propane.
Stop by Colonial Toyota Today!
Before or after spending time at the campground, you should visit Colonial Toyota. We are here to help with all of your needs, whether you want to purchase a new or used vehicle or even just want to look around. We are always ready to help with all of your automotive needs, and much more! So stop by Colonial Toyota and say hi to our friendly sales staff. We're happy to be of assistance!