The Ultimate Guide to Toyota Tacoma Engines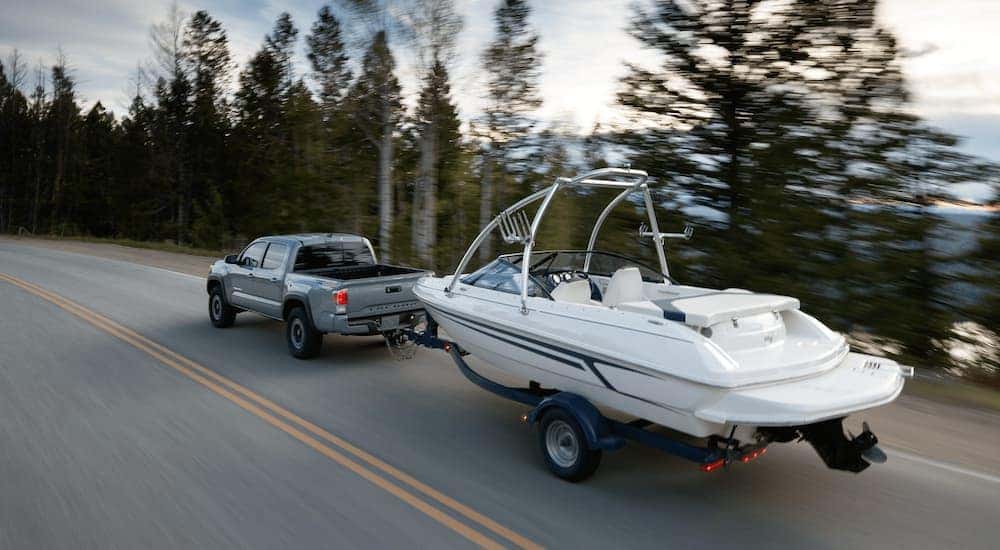 If you have been searching "Toyota dealership near me" on your search engine of choice for information on the Toyota Tacoma, you've come to the right place. Widely renowned as one of the most popular pickup trucks in the United States, the Toyota Tacoma has made quite a name for itself. First manufactured in 1995, this light-duty model gained rapid fame for its versatility and practicality. Over the years, it has evolved from a compact model to a mid-size pickup capable of performing hard tasks with ease. It can adapt to both city and rural environments due to its size, which makes drivers very happy.
Our experts here at Colonial Toyota have a special place in their hearts for the Tacoma. In this handy guide, we will go over the various engine specs, including power, performance, and towing capacity, to help you fully understand this magnanimous vehicle.
Back in the Day
The first generation of Toyota Tacoma trucks was produced from 1995 until 2004. During this decade, three engine options were made available for folks with different driving needs. The first was a 2.4-liter 4-cylinder engine that generated 142 hp and 160 lb-ft of torque. The second was a 2.7-liter 4-cylinder engine that pushed out 150 hp and 177 lb-ft of torque. Finally, the 3.4-liter V6 engine produced 190 hp and 220 lb-ft of torque. These engines could be paired with either a 4-speed automatic or 5-speed manual transmission, and the towing range was set between 3,500 and 5,000 pounds. That's not too shabby for such a petite ride. Each powertrain was equipped with front-wheel drive as standard, but certain models like the Pre-Runner trim could be equipped with four-wheel drive for better handling on rougher roads.
The second generation ran from 2004 until 2015. As you can see, these generations were so well-built that they could last quite a long time without needing major changes. While this generation had only two engine choices, additional transmission options came into play.
Let's Explore the Options!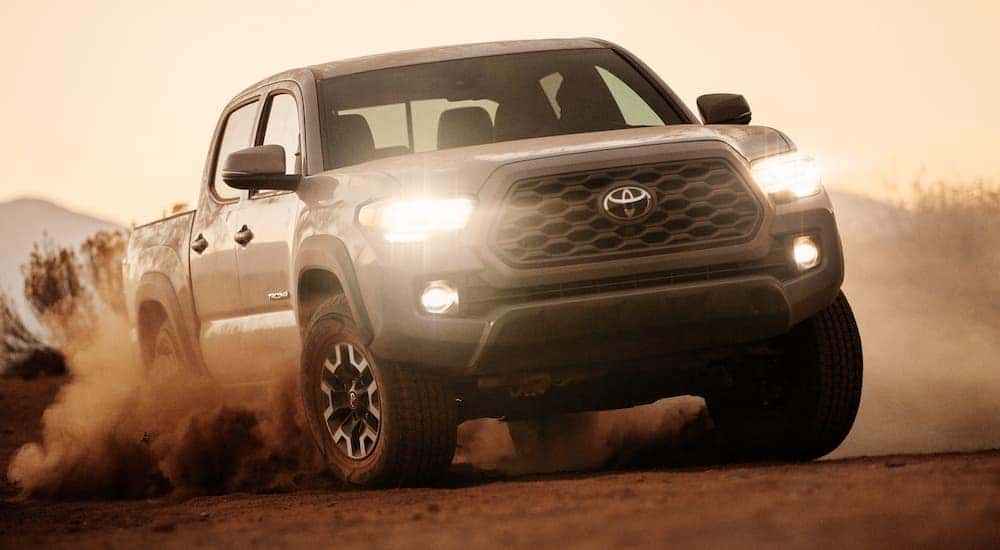 First, the 2.7-liter 4-cylinder engine stayed in the lineup. However, this one was just a bit more powerful than the previous version. Making 159 hp and 180 lb-ft of torque, drivers got a more robust performance out of this model. The second option was a 4.0-liter V6. Eliminating the former 3.4-liter V6 engine, this powerful motor was the upgrade the truck needed. There were four transmission options, including a 5-speed manual, 6-speed manual, 4-speed automatic, and 5-speed automatic. Even with the more powerful V6 option, the maximum towing capacity was capped at 3,500 pounds.
During the second generation, Toyota released the X-Runner trim level. Powered by the new V6 engine mated with the 6-speed manual transmission, this version of the Tacoma was a bit sportier than other versions. It was lowered by about 2-inches, and it came with the X-Brace suspension package for smoother handling. TRD models were also introduced during this time period. The models were more inclined to hit the wild outdoors, and they came with tie-down cleats to secure cargo in the bed of the truck and a locking rear differential. Available with two-wheel drive or four-wheel drive, drivers could choose whether they wanted something sporty or something rugged.
The third generation is still currently in production. Beginning its reign in 2016, these trucks are characterized by their refined powertrain options. The 2.7-liter 4-cylinder engine stayed on board yet again, producing 161 hp and 181 lb-ft of torque. It gets a little more powerful with each new generation. The second option was a revision of the V6 engine. This 3.5-liter V6 motor generated 278 hp and 265 lb-ft of torque. The transmission options were cut down to three, including a 5 or 6-speed manual and a 6-speed automatic. Due to these improvements, the towing range was increased to between 3,500 and 6,800 pounds.
2020 Toyota Tacoma
The new 2020 Toyota Tacoma, still in the third-generation, is back and better than ever before. This petite beast comes in six glorious trims. Each one is specifically designed to suit certain lifestyles. There are two body styles to choose from. The Access Cab (extended cab) features a 6.1-ft bed, and the Double Cab (crew) is fitted with a short 5-ft bed. We make a point to mention this because the cab configuration plays into the maximum towing capacity of each model. The towing range for these new trucks is set between 3,500 (2.7-liter) and 6,800 (V6) pounds.
The base SR is a solid entry-level truck available in either body style. Resting under the hood is the aforementioned 2.7-liter 4-cylinder engine coupled with a 6-speed automatic transmission. Together, they are capable of producing 159 hp and 180 lb-ft of torque. Buyers can choose between RWD or 4WD. It's worth noting that the 4WD system comes with a low-range transfer case for better off-road handling.
Next is the SR5 trim. Although it comes standard with the 2.7-liter 4-cylinder engine, this is the level where the V6 becomes an option. The 3.5-liter V6 motor is paired with a 6-speed automatic transmission and puts out 278 hp and 265 lb-ft of torque. It also comes standard with RWD, but if you opt for 4WD, you will also get the option to get the manual transmission.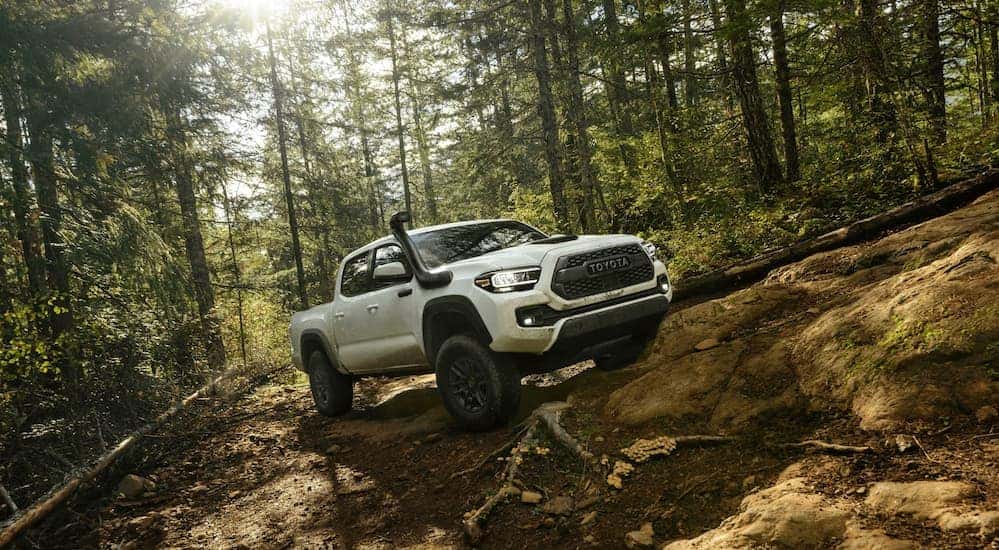 Stepping up the TRD Sport and TRD Off-Road trims make the V6 powertrain standard. Moving into the luxury levels, the Limited trim is unique in its body style. Only available with the crew cab and short bed configuration, drivers get the V6 powertrain and the option to choose between RWD and 4WD.
Finally, the TRD Pro also only comes as a crew cab with a short bed, and the drivetrain is limited to only the 4WD. However, the freedom to choose between automatic and manual transmissions is still yours. These restrictions at this level are due to the fact that this is an extreme off-roading vehicle. Toyota can't very well call it the TRD Pro if it can't conquer rough terrain such as rocks. If you're into mudding, this is the truck for you!
Finding the Perfect Toyota Tacoma
If you are chomping at the bit to hit the outdoors with your new or used Toyota Tacoma, head over the Colonial Toyota in Milford, CT. We've got the best selection of pickup trucks in the area. You can opt for something sparkling new, or you can peruse through our lot looking at pre-owned Tacoma models. Our highly-trained sales associates can help you find exactly what you're looking for. From city driving to off-roading, the Tacoma is a well-rounded truck that can do it all.
If you need to schedule routine maintenance or repairs, you can get in touch with our service department. Our certified technicians can even install extra off-roading accessories to trick out your new ride even more. To learn more about our current inventory of Toyota vehicles, call us or stop by our lot in Indiana, PA, to take one out for a spin!