The Ultimate Guide to Toyota Safety Sense 2.0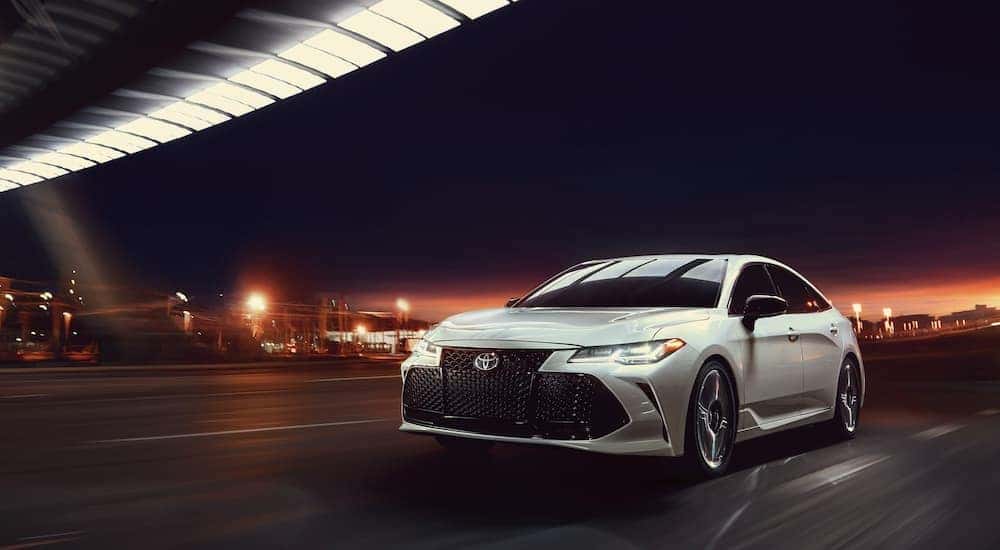 If you've been asking yourself, "where can I find Toyota dealership near me to learn more about Toyota's safety features?" Well, you've come to the right place. Over the years, Toyota has cultivated a reputation for being one of the most reliable automakers on the market. Taking things a step further, this brand has sought out to also become one of the safest. With that being said, if you're thinking about purchasing a new vehicle, you should know that almost every new Toyota comes standard with the Toyota Safety Sense 2.0 suite. Designed to keep you and your loved ones protected on the road, this advanced safety suite has everything you're looking for in a new vehicle, and we'd love to give you the full rundown.
The Next Generation of Safety
Crash protection starts with crash prevention. With millions of accidents being reported to the NHTSA every year, driving is by far one of the most dangerous things we do on a daily basis. However, it is a necessity. Whether you need to commute to work, drop your children off at school, or simply run errands around town, driving is essential to the flow of our daily lives. Keeping that in mind, it only makes sense to manufacture vehicles that can protect you and your family every time you get behind the wheel.
That's why Toyota Safety Sense 2.0 was created. Back and better than ever before, this advanced system of safety features is designed to prevent the three most common accidents on the road.
Most Common Crashes in the United States
While there are many different ways to have an accident while driving, three of the most common crashes in the United States are frontal collisions, lane-departure incidents, and accidents that occur at night.
According to the National Safety Council (NSC), approximately 4.4 million people were seriously injured in car accidents in 2019. The same year, more than 38,800 people were killed in car crashes. Although that is a 2% decrease from 2018, those numbers are still far too high. Therefore, the solution is to adapt vehicle safety technologies to make driving a much safer activity. Here at Colonial Toyota, we want to see fatality and injury rates due to car crashes decline even more. So, let's go over the various safety features that come with the Toyota Safety Sense 2.0 suite.
Toyota Safety Sense 2.0 Overview
As an advanced suite filled with operations that are designed to keep you safe on the roads, TTS 2.0 supports driver awareness, vehicle operation, and decision-making. As an integrated system, it helps to prevent frontal collisions, keeps drivers within their designated lane, and enhances safety at night.
Building off of the former TSS-C and TSS-P safety suites, this new state-of-the-art system includes pre-collision warning, dynamic radar cruise control, lane-departure alert, automatic high beams, road sign assist, and lane-tracing assist. Let's dive in a bit deeper to fully understand the capabilities of each operation.
Pre-Collision System (PCS)
Using a front-facing camera and a radar system mounted on the grille, the PCS assists in preventing frontal collisions. It includes low-light detection for pedestrians and daytime detection for cyclists.
When the system determines that a frontal collision is imminent, it prompts the driver to take evasive action via a visual notification and an audible alert. If no action is taken by the driver, the system will take control of the braking system to bring the vehicle to a complete stop before the impact is made.
Dynamic Radar Cruise Control (DRCC)
This system also uses the front-facing camera and radar sensors mounted to the grille to monitor the speed of the vehicles directly in front of you. Using this data, the system can maintain your pre-set distance and speed without any additional input from you. Designed specifically for highway driving, the vehicle will slow down to adapt to the flow of traffic. Once traffic has cleared, the system will return the vehicle to the original pre-set speed.
In the TSS 2.0 safety suite, the DRCC system features brand new capabilities such as low-speed following, speed matching, stopping, acceleration, and deceleration. Keep in mind that if you purchase a new Toyota vehicle with a manual transmission, the full-speed range capacities will not be available.
Lane-Departure Alert (LDA)
That front-facing camera sees a lot of action in the TTS 2.0 suite. Used by the Lane-Departure Alert system as well, the camera detects lane changes on straight roads with curbs, edges, and visible lane markings. The Multi-Information Display indicates the vehicle's driving status using illustrations that feature colored lane markings. If the system determines that the vehicle is deviating from the designated lane, it will notify the driver with a prompt and audible alert.
If no action is taken by the driver to avoid the lane-departure collision, Steering Assist with the help of electronic power steering will kick in and guide the vehicle back into its designated lane. Road Edge Detection has also been added to keep your vehicle from running off the side of the road.
Automatic High Beams (AHB)
Reducing glare for other drivers and optimizing visibility at night for you, automatic high beams help to prevent nighttime collisions. When the front-facing camera detects an on-coming vehicle, it will automatically toggle from high to low beams. This enables drivers to use high beams on empty roads and switch to lower lights when other vehicles approach.
Road Sign Assist (RSA)
Also shown on the Multi-Information Display, Road Sign Assist reads traffic signs so that you will always be informed. It has the capacity to read speed limit, stop, yield, and "Do Not Enter" signs, making you a more aware driver on the roads.
Lane Tracing Assist (LTA)
The Lane Tracing Assist system was created to work with the DCCR system. Its sole purpose is to keep the vehicle inside its designated lane and to avoid unintentional lane changes. Monitoring lane markings, it also uses the front-facing camera to ensure safe travels. It also requires the driver's hands to stay on the wheel while in use.
Toyota's New Fleet
While there may be a few individual models that do not come with some of the features in the TTS 2.0 safety suite, those are usually vehicles with manual transmissions. Most of the vehicles in Toyota's new lineup come standard with Toyota Safety sense 2.0. Whether you are looking for a car, truck, minivan, SUV, or hybrid, you can rest assured that you will be safer than ever inside any of Toyota's new models.
Find Your Perfect Set of Wheels
Singles, couples, and families can all enjoy the benefits of the Toyota Safety sense 2.0 suite. If you are located in Indiana, PA, or the surrounding region, there is no better place to find the perfect Toyota model than right here at Colonial Toyota. Our premier dealership has a great selection of new and used models, and our auto experts are here to answer questions you might have about our current inventory. Call us or stop by for a test drive today!