The 2021 Toyota Prius: A Look at Each Trim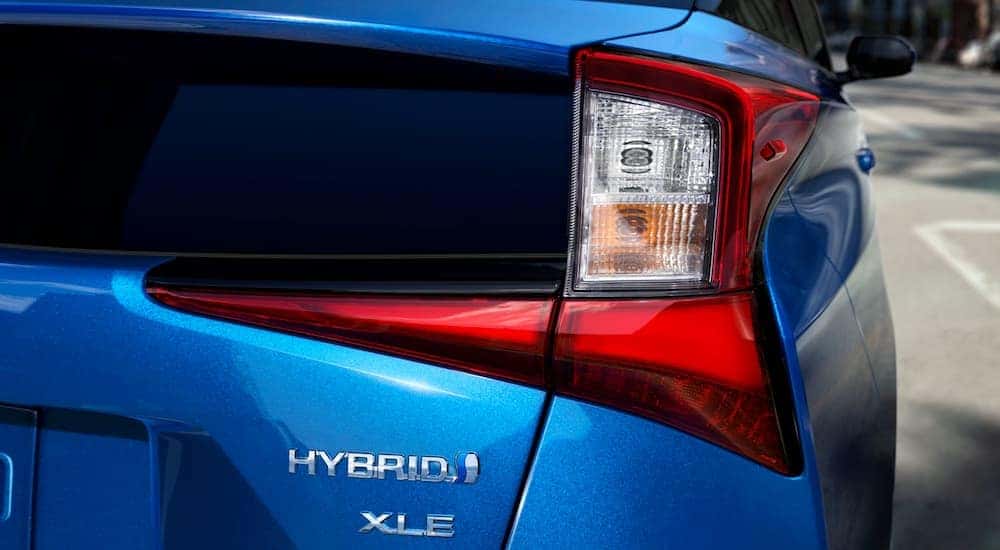 If you're looking for a car that gets stellar mileage, then it's time to visit your local Toyota Prius dealership. The 2021 Toyota Prius is the perfect mid-sized hybrid option for those who want safety, affordability, and convenience. However, it's not enough to just want a Prius; you also have to consider what trim you want to get. Choosing the right trim can be a balancing act of making sure you get the features you want for the price you can afford. So, we have compiled a collection of the highlights of each 2021 Prius trim so you can see the differences and find the one that appeals most to you. So, without further ado, let's dive in.
The 2021 Toyota Prius: L Eco
Let's begin with the lowest trim. The L Eco comes with several standard features, including Toyota Safety Sense 2.0, a smart key system with push-button start, a smart-flow climate control system with pollen filtration, an integrated backup camera, and Hill Start Assist Control. This is a lot within itself, but it's even more impressive once you know what Toyota Safety Sense 2.0 can do. It includes a pre-collision system that can detect pedestrians, vehicles, and even cyclists.
It also offers full-speed range dynamic radar cruise control or regular dynamic radar cruise control. The main difference between these two is that the full-speed version is used for higher speeds, and it can make a complete stop rather than merely slow down. Meanwhile, dynamic cruise control uses sensors to maintain the distance between you and the vehicle ahead.
Toyota Safety Sense 2.0 also includes lane departure assist, automatic high beams, road sign assist, and lane tracing assist. While lane-departure assist helps prevent unintentional lane departure, lane tracing assist works with dynamic cruise control to ensure that your Prius stays steady within its lane while the cruise is set. Additionally, road sign assist can catch signs you may miss, and it informs you of the road's rules.
The 2021 Toyota Prius comes in eight different colors, including Electric Storm Blue, Supersonic Red, and Sea Glass Pearl. The L Eco is also the most fuel-efficient of all of the trims, getting a maximum of 58 miles per gallon in the city and 53 miles per gallon on the highway, and it can seat up to 5 passengers. Overall, it's pretty jam packed for a base-level trim that you can purchase for a starting price of $24,525.
The 2021 Toyota Prius: LE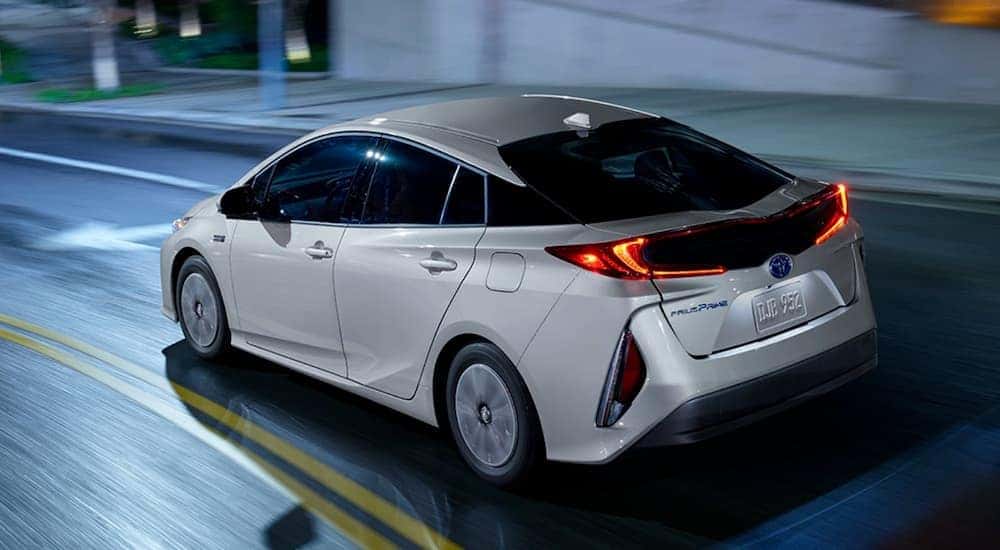 The LE also includes Toyota Safety Sense 2.0, but it adds in blind spot monitoring, rear cross-traffic alert, intelligent clearance sonar with intelligent parking assist, and Android Auto compatibility. Intelligent clearance sonar and parking assist make it easier to park by monitoring the area for obstacles, and it can apply automatic steering to make parking easier. This model also seats up to 5 people, but it gets slightly less mileage than the L Eco, landing at 54 miles per gallon city and 50 miles per gallon highway. It includes 50.7 cubic feet of cargo space when the seats are folded, so there is plenty of room to store your belongings. This trim starts at just $25,735.
The 2021 Toyota Prius: LE AWD-e
The main difference between this trim and the aforementioned trims lies within its all-wheel drive capability. This lessens its fuel-efficiency, but it adds to its capacities. The LE AWD-e 2021 Toyota Prius can get up to 51 miles per gallon in the city, 47 miles per gallon on the highway, and it includes electronic on-demand compact all-wheel drive. It uses a different battery than the standard lithium-ion front-wheel drive batteries. Instead, it uses a Ni-MH battery that is cold weather safe. It's almost as spacious as the LE trim, with up to 47.9 cubic feet of cargo space, which is still plenty of room for storage. This capable all-wheel drive Prius starts at $27,135.
The 2021 Toyota Prius: XLE and XLE AWD-e
The XLE trim is where the luxury begins. If you're looking for a higher-quality interior and convenience, this is the trim to start with. It gets up to 54 miles per gallon city and 50 miles per gallon highway, includes Toyota Safety Sense 2.0, and it offers larger 17-inch wheels with titanium-finished inserts. As far as the interior is concerned, it comes with SofTex-trimmed heated front seats with lumbar support, and the driver's seat is 8-way power adjustable. It also has a SofTex-trimmed heated tilting and telescoping steering wheel. Convenience options include push-button start with remote illuminated entry, wireless smartphone charging, and Android Auto and Apple CarPlay compatibility.
The XLE AWD-e is practically the same as the XLE, but with an all-wheel drive train instead of the front-wheel drive. This does bring the fuel economy down slightly – 51 MPG city and 47 MPG highway – but other than that, all of the convenience and luxury features are the same.
You can purchase the XLE for a starting price of $28,575 and the XLE AWD-e for $29,575.
The 2021 Toyota Prius: 2020 Edition
This model is based on the Prius' 20th anniversary. It includes several aesthetic differences, such as LED accent lights with piano-black bezels, a piano-black shift knob, blackout headlight components, custom 2020 floor mats, a key glove, and 17-inch 5-spoke alloy wheels with black lug nuts and piano-black wheel inserts. It can get up to 54/50 miles per gallon city/highway, it seats 5 passengers, and it comes with several aforementioned features such as Hill Start Assist Control, Toyota Safety Sense 2.0, and smart-flow climate control with pollen filtration. You can find this trim starting at $29,875.
The 2021 Toyota Prius: Limited
The highest-level Toyota Prius for 2021 is the Limited trim. This trim comes with all the great standard features of the previous models, and it adds on some excellent convenience features. These include Premium JBL Audio with integrated navigation, an 11.6-inch touchscreen, Apple CarPlay, Android Auto, Amazon Alexa, and an adaptive front-lighting system with auto-leveling headlights. This model also includes a color head-up display that displays your dash stats onto your front windshield for safer reading while driving. This top tier trim starts at just $32,650.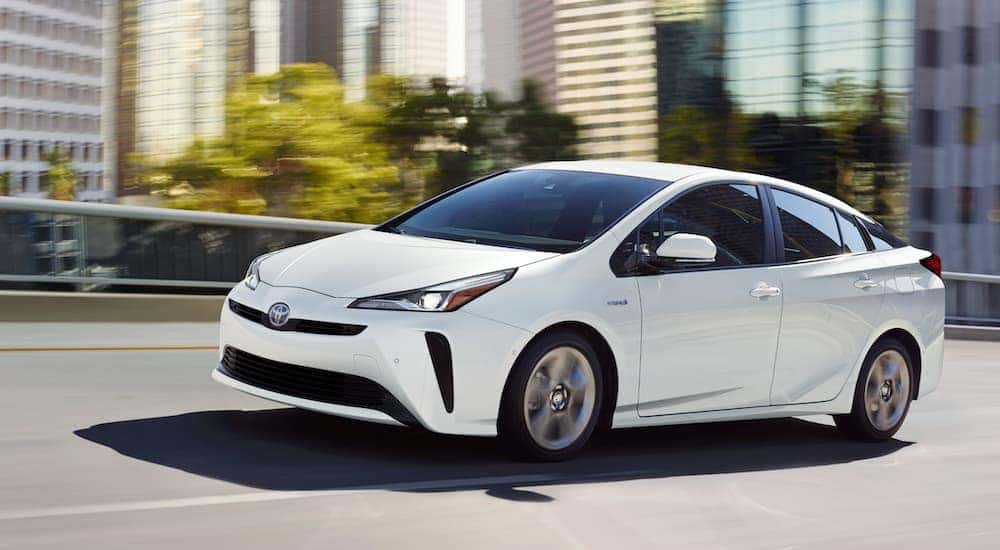 Why The 2021 Toyota Prius?
Now that you've officially decided to choose the hybrid life, why should you pick the 2021 Toyota Prius? Great question. First of all, it's visually appealing. The new Prius is stylish and spacious, so there is plenty of room inside for whatever and whoever you need to transport in this sleek sedan. Second, the 2021 Prius is using fourth-generation hybrid technology, meaning that you're getting the freshest hybrid innovation out there. Finally, the Prius is incredibly safe, even offering high-tech driver assistance features on its lowest trim. You don't have to pay extra to stay safe with a Prius.
Additionally, the 2021 Prius comes with heated power outside mirrors that fold, integrated fog lights, and options for both front-wheel drive and all-wheel drive. It's safe to say that the Prius is an all-around great deal. If you're looking for a reliable commuter car that drives well and will help you save money on your daily drive, the 2021 Toyota Prius is the model for you.
Get Your Prius From Colonial Toyota
If you are ready to get behind the wheel of a Toyota hybrid like the Prius, it's time for you to visit Colonial Toyota. We have several Prius models on our lot, both new and used, so you are sure to find one to fit your wants and budget. You can apply for financing online without needing to call or stop in. Once you buy from us, you can get a lifetime warranty on your new vehicle, and our service center can serve you from here on out. Buying with us means you'll gain access to a one-stop shop for all your vehicle and maintenance needs.