Test Drive Giveaway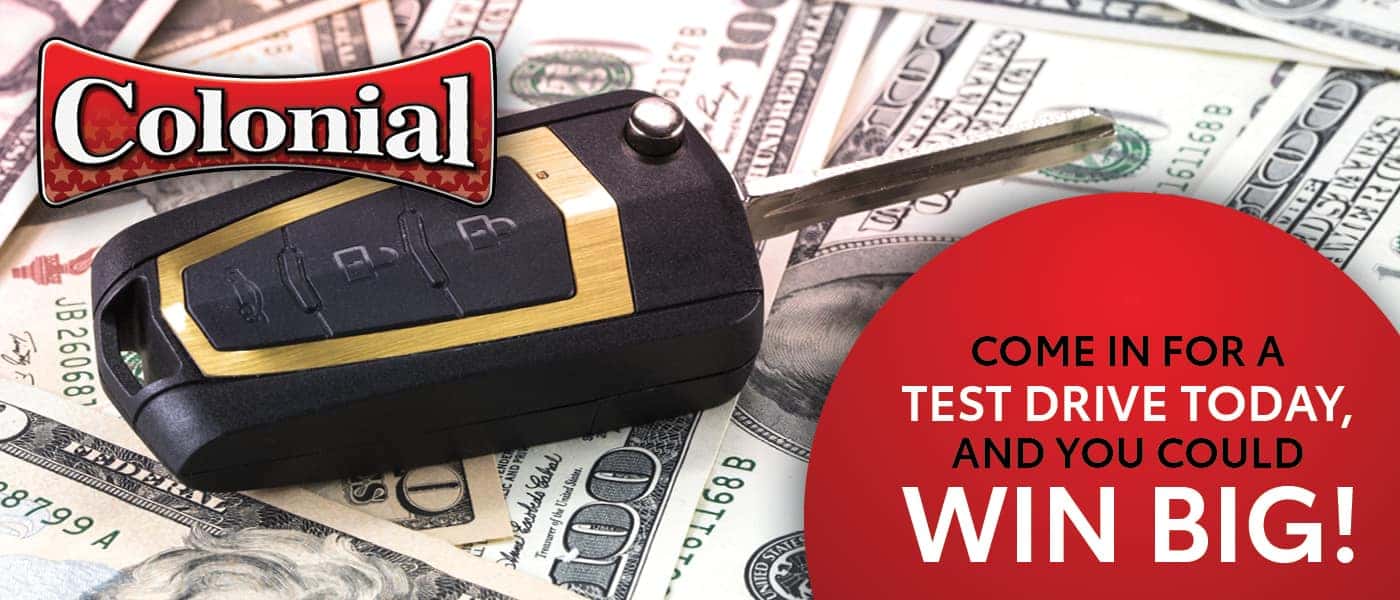 $10,000 In Cash Giveaways!
Win Anything From $250 to $2,000! No Purchase Required! To win, visit Colonial Toyota and let us show you our selection of vehicles. Test drive any vehicle, and you're entered! All test drive entries will be placed into a hopper and randomly drawn on Thursday, April 1st.
Are you ready to test drive a new Toyota and win $2,000? Then visit Colonial Toyota and take part in our Test Drive Giveaway! We will be giving out $10,000 of cash prizes to 18 lucky winners on April 1st. All you need to do to take part in our Test Drive Giveaway is to pay us a visit and test drive one of our high-quality cars, trucks, and SUVs. As long as you are at least 18 years old, you will be automatically entered into our April 1st drawing; no purchase is required! If you have been eyeing a new Tacoma, RAV4, Corolla, or one of the other excellent vehicles in our inventory, come on down and let us show you what we have.
We have plenty of exciting new, used, and pre-owned vehicles on our lot, and we are sure that you will find something that you are interested in. Toyota builds some of the most reliable and eco-friendly vehicles on the market and has a wide range of models to choose from. From rugged pickup trucks and SUVs to comfortable sedans and minivans, we have all of Toyota's most popular vehicles––including a large number of fuel-efficient hybrid models ranging from the new RAV4 Hybrid to the iconic Prius. In addition to our brand-new Toyota inventory, we also have a large number of quality used cars from a variety of manufacturers. No matter what you need, you will find it here at Colonial Toyota.
At the conclusion of our Test Drive Giveaway, on April 1st, we will be randomly drawing 18 lucky winners to receive a total of $10,000 in cash. First place will receive a grand prize of $2,000, so if you have been considering setting up a test drive, now is the time. Our three-second place winners will each take home $1,000 in cash, while our six third-place winners will receive $500. Finally, eight fourth-place winners will get $250. That means you have plenty of chances to win a sizable cash prize simply for going on a test drive at Colonial Toyota.
At our dealership, we are committed to giving back to the Indiana-area community. After all, we have been selling cars here for over 70 years and could not have done that without the support of local drivers. Our Test Drive Giveaway is just one of the many ways that we strive to make car-buying and car-owning an exciting and rewarding experience.
When you buy from Colonial Toyota, you will enjoy our unique Lifetime Warranty on both new and used vehicles. This covers all the major powertrain components and ensures that you have peace of mind on the road. Among the other benefits we offer to Indiana-area drivers are free Pennsylvania state inspections and even a free car wash to keep your purchase looking good! So visit our dealership, go for a test drive, and find a vehicle that you love today. You may even walk out with a wallet full of cash to boot!