Popular Toyota Hybrids in 2020
It wasn't all too long ago that hybrids couldn't stand head-to-head with their gasoline chugging counterparts. But many advancements have been made to the hybrid design philosophy, and results have become increasingly more impressive as the years go on. Toyota has been a forerunner in the hybrid market with the Prius being released in Japan over 20 years ago in 1997. Today, Toyota offers seven separate hybrid models, all of which are ample performers with class-leading fuel efficiency that have people excitedly searching "Toyota dealer near me," and visiting us at Colonial Toyota to get one themselves.
The seven hybrids that Toyota offers start with the Corolla Hybrid, followed by the Prius, Camry Hybrid, Prius Prime, Avalon Hybrid, RAV4 Hybrid, and Highlander Hybrid. Each vehicle excels in their own volition, with the upper-bound Highlander Hybrid being better suited for tasks such as towing. The truth is, there are many reasons why you should consider a hybrid as your next vehicle, namely the aforementioned extraordinary fuel efficiency. Toyota has not slowed down on innovating the hybrid concept since its inception, and the 2020 hybrid models are a clear indication of where things have led up to thus far. Let's take a look at a few of these vehicles to see what makes them so great.
Corolla Hybrid
Serving as the most cost-effective hybrid that Toyota offers, the Corolla Hybrid excels in many ways, making it a terrific value for those looking to get started with a hybrid. The included 1.8L 4-cylinder engine with Variable Valve Timing that helps make up the powertrain can produce 121 hp and 105 lb-ft of torque and is paired with an Electronically controlled Continuously Variable Transmission (ECVT) which makes for a smooth ride.
Of course, the most impressive part of a hybrid is the fuel-efficiency when compared to vehicles equipped with a gasoline engine in a similar price range. With this engine, the Corolla is able to achieve an impressive 53 MPG in the city, 52 MPG on the highway, and 52 MPG combined. And even aside from being a hybrid vehicle, the Corolla Hybrid has many benefits. It has the same feature set as its contemporaries, such as an infotainment center with Apple CarPlay and Android Auto support. Overall, it is an excellent vehicle in terms of its hybrid capabilities and other features.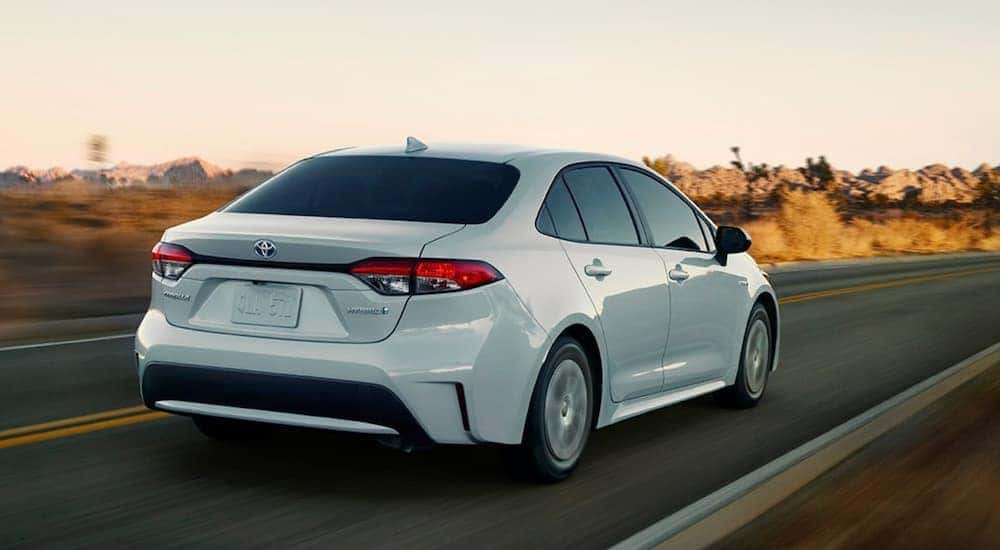 Prius Prime
The Prius Prime is an upgraded rendition of the popular Prius, which served as Toyota's first-ever hybrid vehicle and is still sold today. The Prius Prime, however, takes a very stylized approach to the design of the car and even allows for better fuel efficiency. The Prius Prime, though, is a different type of hybrid as it is a plug-in. This might make some people nervous who are worried about charging up, but hybrids have gained tremendous amounts of popularity over the years that there are now over 16,500 charging stations situated throughout the United States. This means you can charge your Prius Prime or any other hybrid vehicle all over the country with ease.
With the included battery along with a 1.8L 4-Cylinder engine, much like the Corolla, the Prius Prime sees EPA-estimated ratings of 55 MPG in the city, 53 MPG on the highway, and 54 MPG combined when in hybrid mode. These ratings remain consistent throughout the three available trims. The Prius Prime also receives an EPA-estimated total driving range of 640 miles, which is undoubtedly an impressive statistic. The battery can be fully charged within 2 hours and 10 minutes if utilizing a public charging station equipped with 240V but will take 5 hours and 30 minutes to charge through a standard outlet. With great fuel efficiency, a long driving range and quick charging, the Prius Prime is one of the most impressive hybrids to exist.
Highlander Hybrid
The 2020 Highlander Hybrid is a very versatile vehicle with plenty of capabilities. There are also multiple trims to pick from, just like conventional vehicles have, making the options endless. The base LE trim can seat eight passengers and has a built-in blind-spot monitor and integrated LED fog lights. XLE is the next trim and adds capabilities such as wireless charging for your smartphone and an integrated moonroof with power controls. Your interior will get cosmetically enhanced with both your front and second-row seats being swapped out for SofTex-trimmed seats.
Next is Limited and adds leather-trimmed seats to your interior and a hands-free power liftgate. This trim also includes an exemplary high-quality audio system from JBL consisting of eleven speakers fit throughout your cabin with a whopping 1200W subwoofer. The last trim available for the Highlander Hybrid is Platinum. This trim upgrades your infotainment center to a massive 12.3-inch screen and includes a panoramic moonroof for the utmost immersion in your cabin. This trim also includes a birds-eye view camera, which will enhance your spacial awareness while driving like never before.
All of the trims receive the same 2.5L DOHC engine paired with an electronic motor to produce a combined power output of 243 hp. The engine itself can produce 186 hp and 175 lb-ft of torque. Although it doesn't receive the same fuel efficiency as other Toyota hybrids, with ratings of 35 MPG in the city, 35 MPG on the highway, and 35 MPG combined, it still receives respectable results, especially for an SUV.
Even more, each trim of the 2020 Highlander Hybrid allows for a maximum towing capacity of 3500 lbs. Each trim is built with an electronic AWD system that performs much like traditional AWD, albeit with an electric motor to improve traction by supplying additional power to your rear wheels when road conditions permit. You'll be receiving all-season tires no matter which trim you opt for, and each comes with a spare as well. This vehicle, in particular, is highly recommended for those looking to perform work-oriented tasks while still owning a hybrid. There is just something special about an SUV hybrid.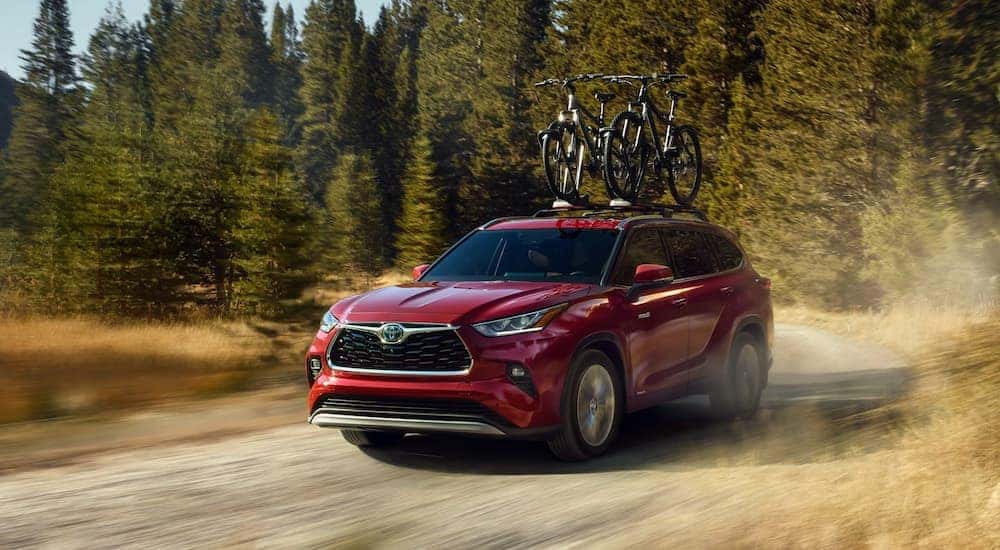 Looking into Hybrids
As you can probably tell, hybrid vehicles are no longer considered experiments by many automotive enthusiasts, and now serve as strong contenders to their favorite lineups. Toyota has continued to put forth a valiant effort to enhance hybrids even further until one day when they may become the standard. Those looking to gain further knowledge about Toyota or hybrid vehicles, in general, should take a visit to their local Toyota dealership where they can ask the questions they have, take a look at the selection, or even take one out for a test drive.
The ideal dealership can provide a wide range of dependable vehicles at competitive prices, all while providing a hassle-free service with experienced and dedicated staff members at the helm. And we're one such dealership. At Colonial Toyota, we serve the greater area of Indiana, PA, with Toyota vehicles you can trust, at a price you will love. So, once you're ready to take the next step into the world of Toyota and perhaps learn more about why a hybrid will be a great choice for you, come visit us at 2600 West Pike Road, Indiana, PA. With our extensive knowledge and a large catalog of popular Toyota vehicles, we'll be happy to get you started. Until then, we look forward to meeting you!