Getting the Best of Both Worlds in the 2021 Toyota Corolla Hatchback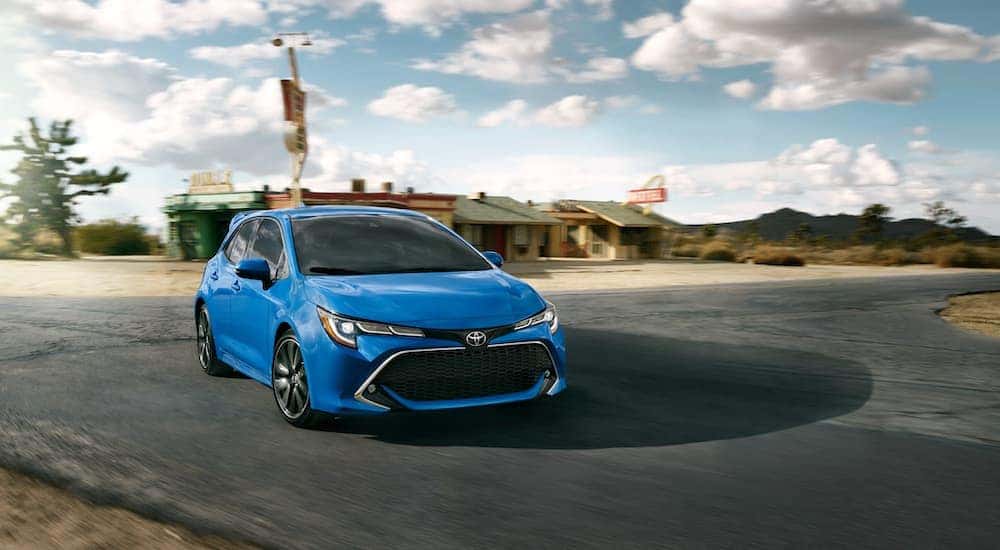 Look, we get it. Small and compact sedans just don't have the utility that larger vehicles do, and it can be hard to compromise the need for capacity with the need for a practical, fuel-efficient vehicle. That's why we're proud to offer the 2021 Toyota Corolla hatchback here at Colonial Toyota, your local family-owned Toyota dealership. The hatchback makes the compromise easy by offering all of the practicality of the Corolla sedan in an upsized package that you can rely on for safe delivery of you and your oversized cargo. The 2021 Corolla hatchback boasts a fuel economy of 35 mpg (32 city/41 highway) and 17.8 cubic feet of storage space, enough for all five passengers to comfortably load suitcases.
Moving You Forward
The 2021 Corolla Hatchback is available in three trim packages: SE, SE Nightshade, and XSE, not to mention a limited special edition based on the SE grade. Each one comes with the same engine, a 2.0L 4-cylinder with 168 hp. A 6-speed manual transmission is available on all three trims for those who prefer a higher level of engagement, but the standard option is an efficient CVT (continuously variable transmission), which will always keep your engine in an optimal performance zone. These systems combine to produce a 0-60 time of around 8 seconds, which won't blow anyone away, but it won't be left behind, either.
There's no question that the Corolla hatchback will have no problems moving you forward – but what about your friends, family, and all of their stuff? Both the sedan and the hatchback provide seating for 5 with a 60/40 split folding rear bench. The back of the 5th seat folds down to be an armrest with cupholders if needed, and both of the adjacent rear seats include anchors for child seats. All seats have 3-point seatbelts as well.
One place where the sedan has an advantage over the hatchback is rear legroom – the hatchback gives up 5 inches of legroom and 6 inches of hip room in the back but adds an extra half-inch of headroom and 3 inches of shoulder room. Part of the trade-off for this is the extra cargo space in the back. The sedan only has 13 cubic feet, while the hatchback is standard with nearly 18 cubic feet. And if you take the extra cargo space option at no extra cost to swap the spare tire for a tire repair kit, that increases to 23 cubic feet, nearly twice as much as in the sedan.
Lights and Sounds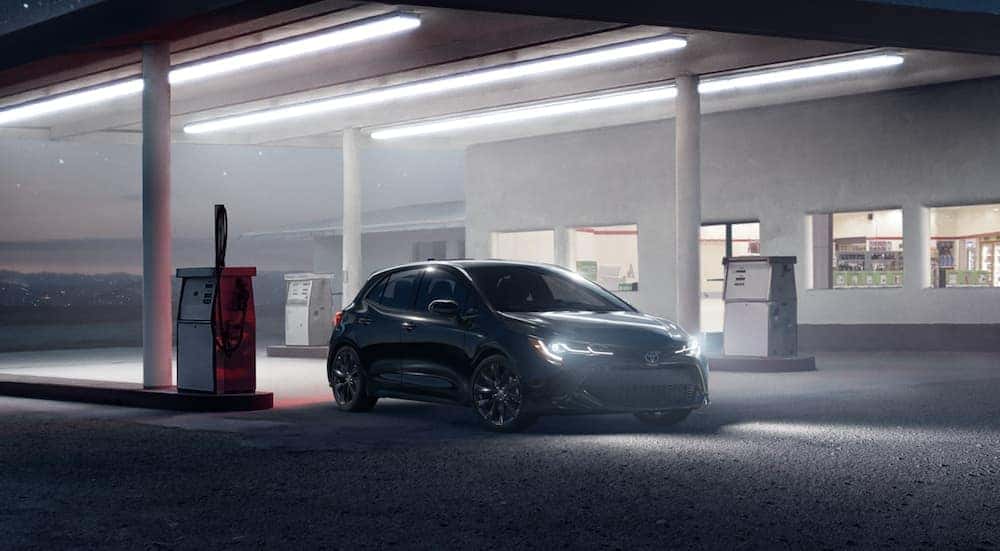 The Corolla is not a flashy car, but that doesn't mean that it's dull or drab. Sharp, aggressive lines warrant a second look from the outside, and it's well-equipped with LED head- and tail-lights for excellent visibility on the darkest of nights. On the XSE, fog lights are standard, and an adaptive front-lighting system is an option to maximize night vision. Blindspot warnings on the side mirrors are available for SE and standard on XSE for additional security when you hit the highway.
The car comes equipped with color-keyed highlights such as the grille surround, spoiler, rear diffuser (and surround), shark fin antenna, side mirrors, door handles, and side rocker panels. That's nice and all, but if your next question is, "does it come in black?" then we've also got you covered. Meet the SE Nightshade Edition, for which all of the above are colored according to the philosophy of "black is the new black," along with the 18" aluminum wheels and interior trim.
That being said, if the Nightshade is a little too dark for your taste, the SE and XSE provide the options of selecting black for the roof, spoiler, side mirrors, and shark fin antenna so you can fine-tune your new hatchback's look with just the right amount of mascara. The SE even provides the option of grabbing the Nightshade's wheels, although the standard offering is 16" aluminum with silver paint.
On the inside, you'll find a simple and clean interior in black or (should you so choose) moonstone for the dash, upper door panels, and all but the interior portions of the bucket seats. The center console is a no-nonsense affair with temperature dials (dual-zone climate control is standard on the XSE) and an 8" touchscreen with physical dials and buttons for volume, tuning, and other controls, allowing you to keep your eyes on the road during operation. All trim levels feature Bluetooth connectivity for phone and music streaming, and each is compatible with Android Auto, Apple CarPlay, and Amazon Alexa.
The XSE trim offers further interior upgrades. The cloth seats are traded for standard leather, with heated front seats and 8-way powered adjustment for the driver's seat standard. The multi-information display on the dashboard is increased in size from 4.2 inches to 7 inches for easier viewing. Finally, if you're the type that likes to be at the cutting edge of technology (and hates having a charging cable in the car), the XSE provides the option of a wireless charging pad for compatible devices.
Putting Safety First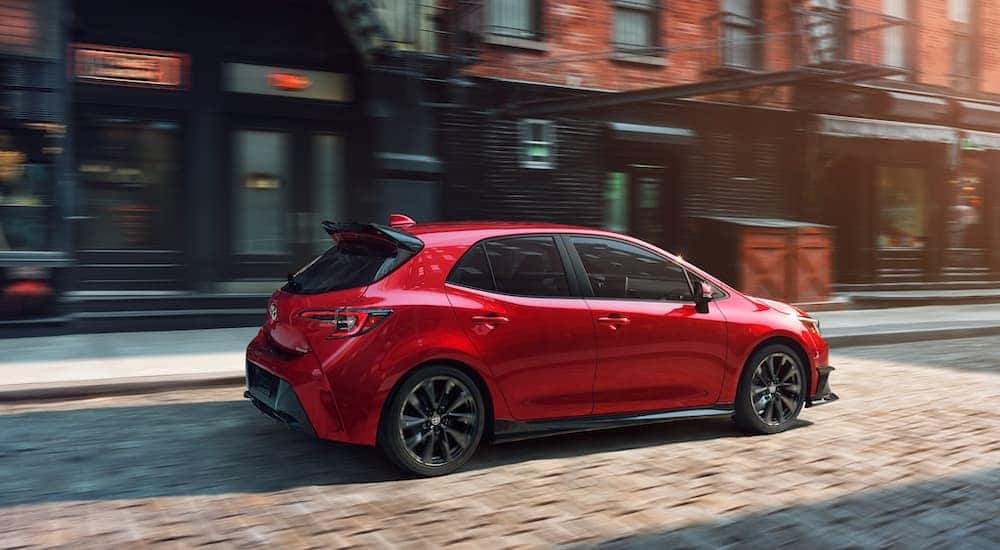 Passenger safety is of paramount importance, which is why the Corolla hatchback is loaded with ten passenger airbags. Although a Corolla is a frugal purchase (the base SE trim starts at under $22,000) and doesn't have all the bells and whistles money can buy, you'll find there's no compromise in the safety department. Toyota's Star Safety System is standard on all trims and covers all the basic safety technologies – including ABS, stability control, traction control, and even Smart Stop Technology (to cut the gas when brakes are applied), to name a few.
SafetyConnect is provided with a one-year trial for help in case of emergencies or break-downs, and every Corolla comes equipped with the Toyota Safety Sense 2.0 suite of safety tech. That includes a pre-collision automatic braking system with pedestrian detection, adaptive cruise control, automatic high beams, lane departure warning, and road sign assist, so you never miss important updates like a change in the speed limit. Also available on the SE (standard on XSE models) is blind-spot monitoring and rear cross-traffic alert, giving you peace of mind that you're not missing anything when you look back over your shoulder.
Finally, the Corolla carries a legacy of excellence in crash test ratings. The front seats are specially designed to reduce whiplash in case of a rear-ending, and the side beams, steering column, and front/rear crumple zones are all specially designed to absorb as much energy as possible in a collision. The 2020 models received perfect scores of 5 stars in collision testing, and both the hatchback and sedan were named IIHS Top Safety Picks. Nothing less should be expected from the most popular car in the world.
Putting You First at Colonial Toyota
For 70 years, our family-owned business has been putting the people of Indiana, PA first. Our passion is helping our customers find a safe, affordable, reliable car they'll love for years to come. We think the 2021 Toyota Corolla hatchback may be that car for you. With efficiency to protect our planet and your wallet, top-notch safety technology for peace of mind, and modern styling with features to keep you seamlessly connected, it is no surprise that the Corolla continues to be a hit around the world. The hatchback combines that excellent package with the utility that the driving public of Indiana County needs.
If you're on the fence, trying to decide if you want your next car to be frugal and efficient or to have the capacity for hauling cargo, we ask, "why not both?" Give us a call or pay us a visit at 2600 West Pike Road and allow our expert staff to demonstrate how the 2021 Corolla hatchback can be your new traveling companion for years to come. We're here to help if you're ready to arrange a test drive or just have a few more questions – we hope to see you soon!