5 Reasons Why Is the Tacoma So Popular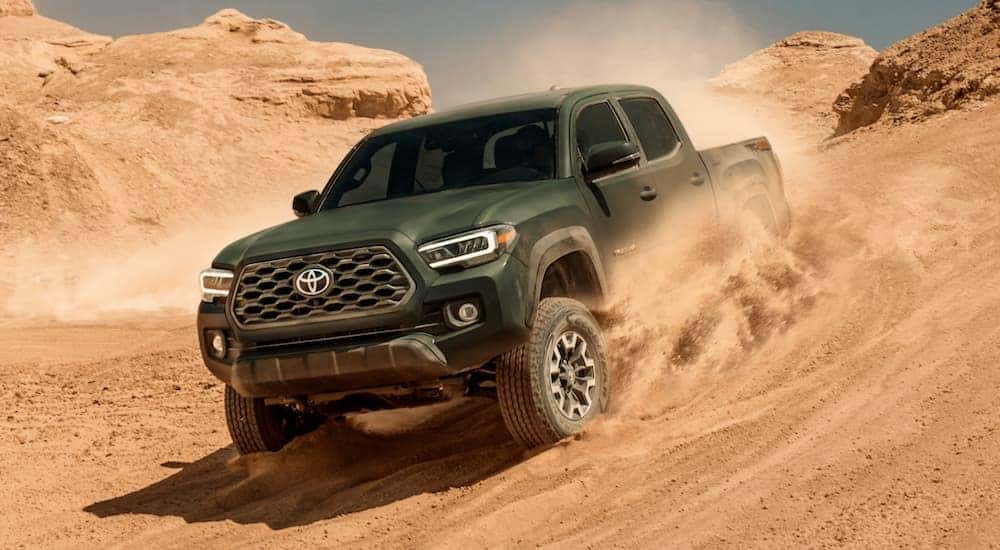 Out of all of the mid-size truck options that are available on the market today, the Toyota pickup trucks out-sell the pack. With so many competitors out there, you might be wondering why the Tacoma is so popular. There are actually several reasons behind this, but we will cover the top five in this article. Let's get started!
#1 – Longevity
The very first Tacoma appeared on dealership lots for the 1995 model year. Ever since then, this petite truck has managed to become a household name, with many people swearing that it lasts forever. While forever might be a bit of an overstatement, many Tacoma trucks can easily put between 300,000 and 400,000 miles on their engines if they are maintained properly.
Toyota Tacomas are also well-known for holding their value and were awarded the Best Resale Value Award by Kelley Blue Book for 11 years in a row. So, not only does a Tacoma last a long time, but it holds it won't depreciate as quickly as other trucks. It will just keep chugging along doing what it does best.
#2 – Reliability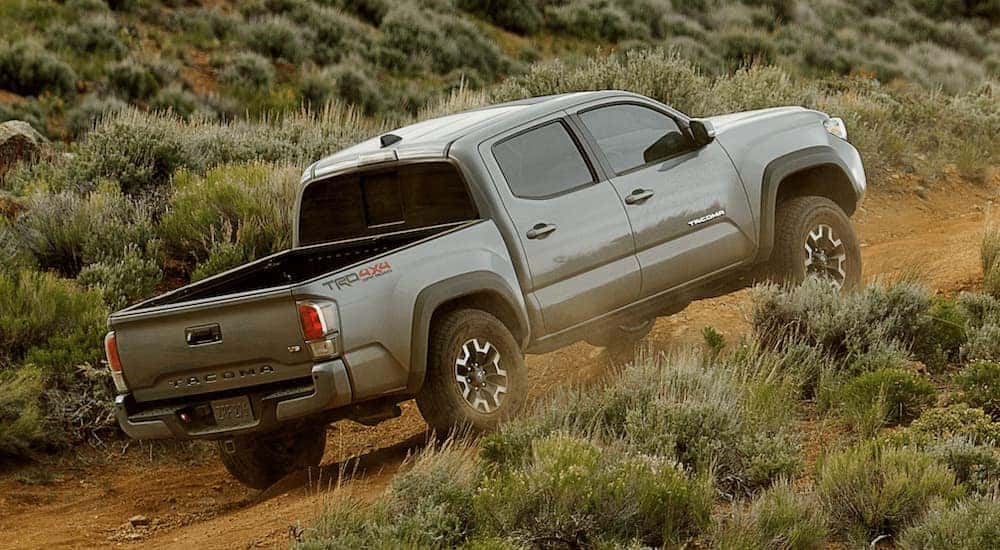 That brings us to the reliability factor. Toyota pickup trucks, especially the Tacoma, do not have a reputation for breaking down often. In fact, they have the opposite reputation. Consumers with Tacomas have asserted that they don't really have to worry too much about vehicle services. Aside from routine maintenance such as oil changes, tire care, and battery replacements, there isn't much to do for a Tacoma.
Since the Tacoma is so reliable, you'll end up spending less money on vehicle services too. So, not only does this truck give you peace of mind, but it also saves you some hard-earned money.
#3 – Performance
The 2021 Toyota Tacoma is offered with two powerful engine choices. The standard engine is a 2.7-liter 4-cylinder that comes equipped on the SR and SR5 trims. This engine can yield up to 159 hp and 180 lb-ft of torque; additionally, it can haul up to 3,500 pounds. As for fuel economy, the average estimate is about 21 MPG combined (20 city/23 highway).
The other four Tacoma trim levels come with a robust 3.5-liter V6 engine that generates 278 hp and 265 lb-ft of torque. When the Tacoma has the 3.5-liter engine and the proper equipment, it can tow a maximum of 6,800 lbs. Contrary to popular belief, the fuel economy does not tank out with the larger engine. It still gets a very good 21 MPG combined (19 city/24 highway).
#4 – Resale Value
Because the Toyota Tacoma has such a sterling reputation, the resale value has proven to stay consistently high. While every used vehicle does depreciate, the Tacoma does so at a much slower rate than other trucks. In fact, it is ranked #1 for having a low depreciation rate for trucks, according to a report by iSeeCars. The average 5-year-old vehicle depreciates in value by a whopping 49%. However, a five-year-old Tacoma will only depreciate by 32.4%. This means that you will be closer to paying off your new Tacoma when you trade-in your old one. Although, we have to warn you that a lot of people don't want to give up their Tacomas once they get a hold of one!
#5 – Off-Roading
If you purchase a new Tacoma, you will have the choice of three different off-roading trims. This is something you won't find with competing models. They tend to only offer one off-roading trim.
The first is the TRD Sport. As the mildest of the off-roading models, it rides on 17-inch wheels with a sport-tuned suspension. The hood scoop design enhances the vehicle's aerodynamics, and the fender flares and rear bumper are body-colored for a more uniform look. On the inside, you will find a wireless charging pad to help reduce clutter. This is notable because usually, only top-tier trims have this feature. You can also opt for several different packages on this trim, including the Technology package (blindspot monitoring, rear cross-traffic alert, and rear parking sensors), the Premium Sport package (sunroof, leather upholstery, and heated seats), and the Advanced Technology package (360-degree parking camera system). LED headlights, navigation, and JBL sound system can also all be equipped.
The second is the TRD Off-Road. It removes the TRD Sport hood scoop and gets smaller 16-inch wheels. However, it adds Bilstein shock absorbers and the advanced off-road traction control system. This allows you to traverse over a variety of terrains and even crawl over rocks without much difficulty. Furthermore, it gets a chrome rear bumper and textured black fender flares for a more aggressive look. Again, you can add any of the aforementioned packages to this trim as well as a Multi-Terrain Monitor that comes with front and side-mounted cameras. These allow you to position the truck better for off-roading.
The last one is the TRD Pro. This model also happens to be the top-tier trim. It gets 16-inch wheels finished in black with all-terrain tires. LED headlamps are standard, and the grille has been darkened for a more mysterious aesthetic. The hood scoop is back, and the exhaust system has been upgraded. Also, it gets a thicker skid plate for better protection while traveling over jagged rocks. The shock absorbers are Fox internal bypass models, and the Multi-Terrain monitor is standard. All of the aforementioned packages and add-ons are standard as well. You won't find another off-roading truck model that is as well-rounded and luxurious as the Tacoma.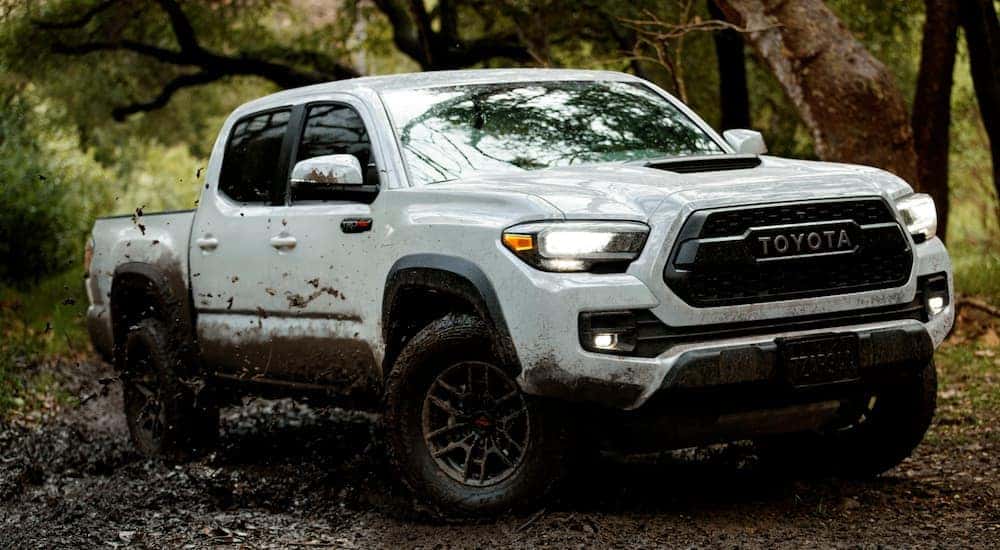 A Few More Reasons to Get a Tacoma
Before we wrap everything up, there is one more thing we want to mention that may help you understand why the Tacoma is so popular. Although it is classified as a mid-size pickup truck, it is available in three different body styles. First is the Access Cab with a 6.0-foot bed. This is the extended cab model that some may refer to as the king cab. It has two doors and seating for four people. To get into the back row of seating, all you need to do is pull the front seats forward.
The second and third body styles are both Double Cabs with two different bed lengths. You may opt for the regular 6.0-foot bed or the short 5.0-foot bed. Whichever body style you choose, the cabin will feature four doors and seating for five people. Having the extra doors makes it easier for back-seat passengers to get in and out without messing up the front seats. They tend to be the more convenient options compared to the Access Cab. This is especially true for elderly or disabled passengers.
Find the Perfect Toyota Pickup Truck
If you are interested in purchasing one of our Toyota pickup trucks, then we highly suggest that you take a long hard look at the Tacoma. This model is durable, well-equipped, and will last you quite a long time. If you ever want to resell it, you won't be too disappointed in the high amount it sells for. When you are ready to find your new Toyota truck, visit us at Colonial Toyota in Indiana, PA, today!