5 Reasons to Be Excited for the 2021 Tundra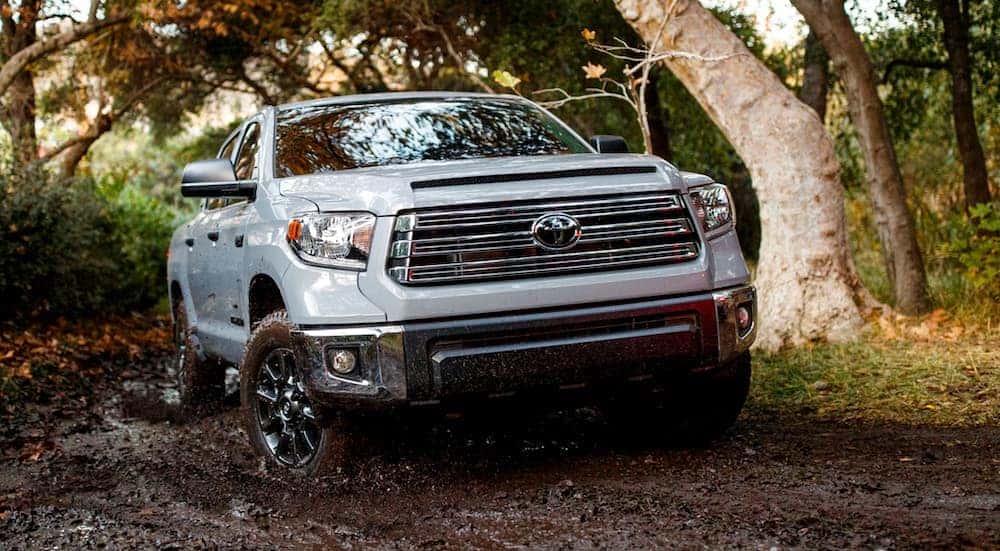 Here at Colonial Toyota, we try not to play favorites; every Toyota that comes to our dealership is a fantastic vehicle well worth getting excited about. That being the case, there are still certain models that we have a hard time not getting a little bit more excited about when we see them, especially when it comes to Toyota pickup trucks and all of the power and features they have to offer. The 2021 Toyota Tundra is the perfect example of everything Toyota continues to do right when designing their vehicles, and one look is all it takes to see it.
Today, we thought it would be fun to take a moment and look at the 2021 Tundra specifically – the other great vehicles in Toyota's lineup will just have to wait their turn. While a rundown like this certainly can't get into every last detail of the Tundra, we'll point out some of the major features we're most excited about. Whether you're looking for a truck right now or might be in the market for one this year, the Tundra is definitely a great place to start.
Reason #1 – Fantastic Trims to Choose From
This is something that can be easily overlooked when you're busy checking out specs like towing and horsepower – we don't blame you; those are certainly important. But the number of different trims you can get with a truck really makes a big difference when you're shopping for your next vehicle. In general, Toyota pickup trucks have excellent trim levels and options to choose from, and the Tundra is the perfect example of that.
Not including any special editions, like the 1794 Edition, there are five main trims for you to choose from with the 2021 Tundra. We feel this is the perfect number as it gives you lots of options, without falling into the traps of giving you too many choices or not enough. You can get just the right features and available options without getting more than you need or missing out on something.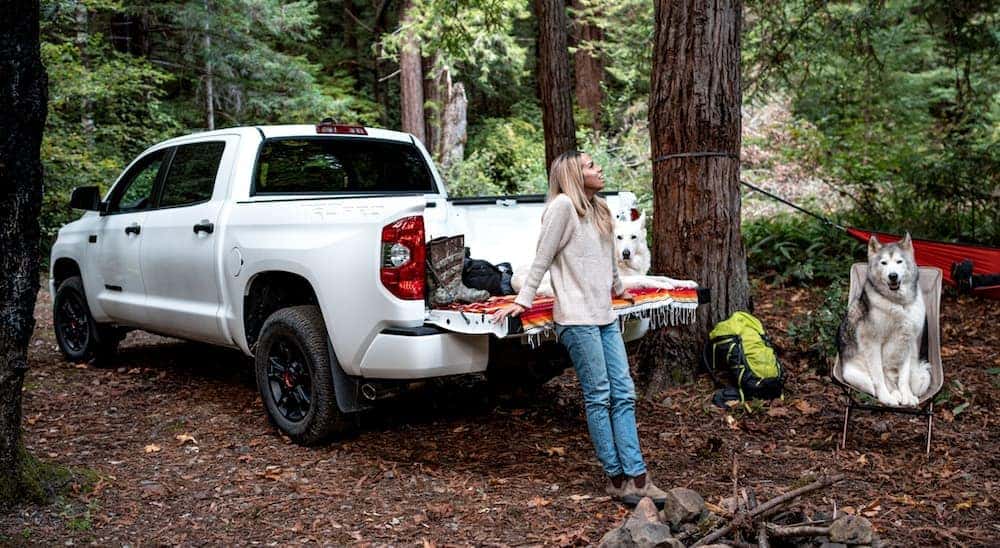 The trims for the 2021 Tundra include:
SR – This is the standard trim for the 2021 Toyota Tundra. It features six-passenger seating, the Toyota Safety Sense package, and a tow package with an integrated trailer brake controller.
SR5 – A step up from the SR, the SR5 features a number of upgrades, including an 8-inch infotainment display, a sliding rear window with privacy glass, and heated power exterior mirrors.
Limited – The Limited takes luxury and performance further with 20-inch wheels, LED headlights with LED fog lights, and a leather-trimmed steering wheel.
Platinum – If you choose the Platinum trim, you get luxurious seating for five people with a power sliding rear window, Smart Key system, and an easy lower and lift tailgate.
TRD Pro – The TRD Pro is the off-road trim for the 2021 Toyota Tundra and features TRD FOX shocks with piggyback reservoirs, a front skid plate, and leather-trimmed front bucket seats.
As you can see, there's something here for everyone.
Reason #2 – Impressive Performance
One of the reasons so many people choose Toyota pickup trucks, in general, is because of the incredible performance they have to offer, and the 2021 Tundra really defines that. There is a single available engine for the Tundra, which isn't a problem because it offers plenty of power and amazing performance. While some other trucks need to have several different engines so you end up paying more for the power you deserve, the Tundra simply delivers.
With the 2021 Tundra, you get a 5.7L i-FORCE V8 engine that provides up to 381 hp and 401 lb-ft of torque. As a full-size truck, compared to the midsize Toyota Tacoma, this is a great amount of power that can really get the job done. It comes paired with a 6-speed automatic transmission that is very responsive and makes for an excellent overall driving experience.
The Tundra comes with rear-wheel drive standard, though four-wheel drive is available, with A-TRAC active traction control that helps optimize traction in rough or slippery terrain. Every Tundra model also features an automatic limited-slip differential, which comes standard, along with powerful front brakes that help with towing. All of this comes together to make for a great driving experience during the week and on the weekend.
Reason #3 – Remarkable Towing and Payload
Toyota pickup trucks are well known for their power and capability – all of that performance isn't just for show. It's there to help you get the job done or enjoy your weekend. Whether you need to haul a load of lumber across town, pull a trailer behind you, or take your boat out for a weekend away from it all, the 2021 Tundra has you covered.
When properly configured, the Tundra has a maximum towing capacity of up to 10,200 lbs. And since every model comes with the impressive towing package standard, any Tundra you choose will be an excellent choice for towing. The integrated tow hitch receiver is built onto the heavy-duty TripleTech frame of the Toyota Tundra, with a trailer hitch that features 12 high-strength bolts that go into the frame for optimal power and reliability.
If you're looking to load up the bed, then the Tundra has a maximum payload capacity of up to 1,730 lbs when properly equipped for it. Depending on the trim and configuration you choose, you can get either a 5.5-foot long bed or a 6.5-foot long bed on the 2021 Tundra. Either way, you'll find yourself with a fantastic workhorse of a truck that can handle just about anything you throw at it.
Reason #4 – Great Interior Features
Although the interior features you get will certainly depend on the trim level and other options you choose, every 2021 Tundra has impressive comfort and technology. Standard features on the Tundra SR include six-passenger seating with fabric-trimmed seats and power windows. You'll also get remote keyless entry, multiple power outlets, and a six-speaker sound system.
If you choose higher trims, such as the Platinum, then you'll get more refined and sophisticated interior features. For example, the Platinum has automatic dual-zone climate control, five-passenger seating with perforated, leather-trimmed seats, and a leather-trimmed steering wheel. The Platinum also features a Smart Key system with push-button start, a power vertical sliding rear window, auto-dimming rearview mirror, and a 12-speaker JBL sound system. While a 7-inch Infotainment display is standard on the SR, higher trims like the Platinum feature an 8-inch Infotainment screen.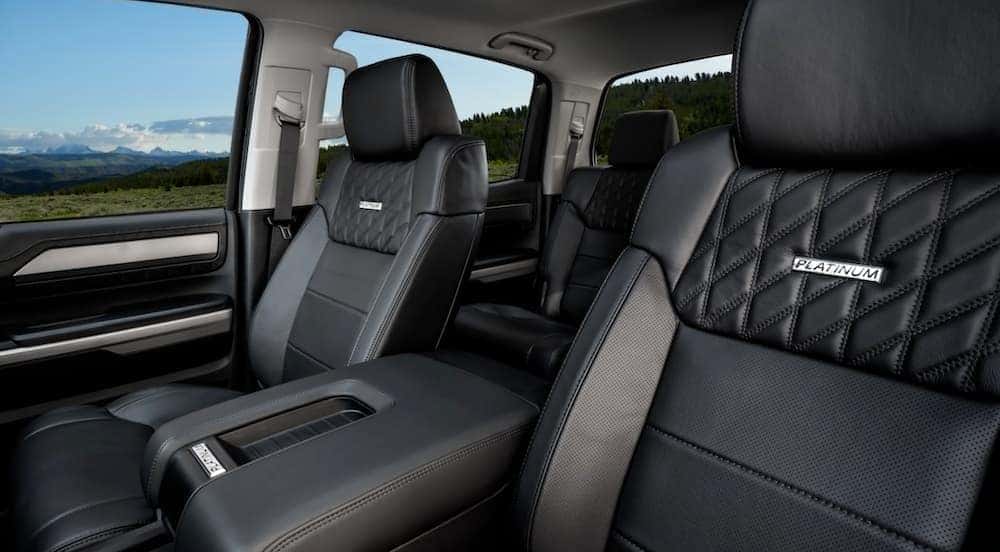 Reason #5 – The All-New Nightshade Package
One of the brand-new features for the 2021 Toyota Tundra is the all-new Nightshade package, which is only available for the Limited trim. This appearance package certainly lives up to its name thanks to a dark chrome grille, black mirror caps, black exhaust tips, and black door handles with black badging. The 20-inch wheels with black rims and black leather upholstery inside round out this truck's nocturnal appearance and create something truly captivating. There's also a new Trail Special Edition available, though only 5,000 of them were manufactured, so it's quite hard to come by and features unique badging for the SR5 model.
There Are Plenty of Reasons to Be Excited for the 2021 Tundra
No matter what you're looking for in a full-size Toyota pickup truck, the 2021 Tundra has you covered. Our sales team is standing by to help you find the perfect trim and features that you want in your pickup. Let our finance team find you the best deal, and drive home stress free knowing that if your Tundra needs any repairs, our service team can fix them. Call or come visit us at Colonial Toyota today to find out more and see the impressive Tundra for yourself.