2021 Toyota Models Preview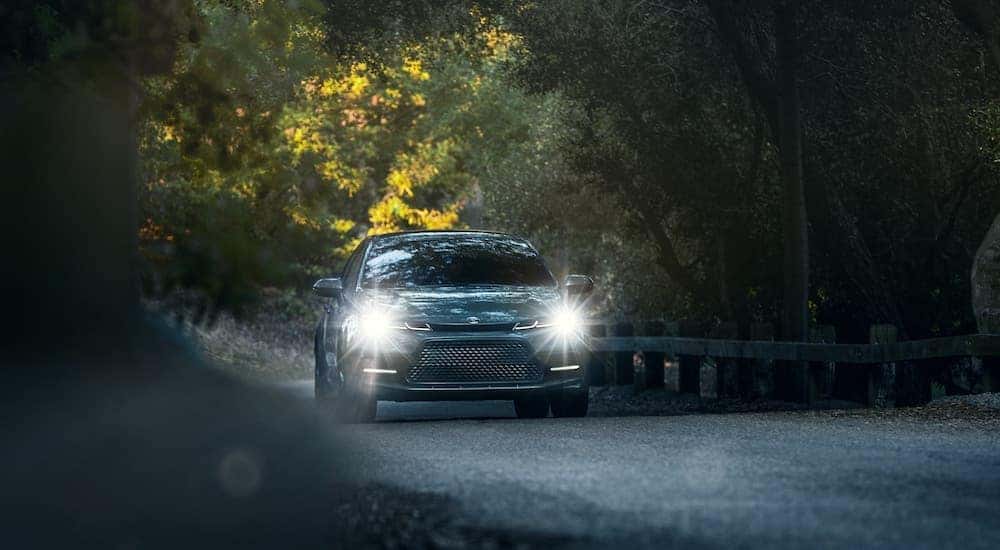 From economical sedans to family-friendly SUVs and everything in-between, it's hard to find a more inclusive auto brand than Toyota. With a well-rounded fleet for buyers to choose from, there is something for everyone in the Toyota models lineup – and you can find them all here at Colonial Toyota. The 2021 production run has even more amazing offerings, including advanced technology and safety systems. So, without further ado, here is a quick 2021 Toyota models preview for your shopping convenience.
2021 Toyota Camry
One of the most popular vehicles in the Toyota lineup is the Camry. The new 2021 model will be even more impressive than previous versions. Featuring the Toyota Safety Sense P suite, this vehicle comes equipped with advanced safety features. Pre-Collision Assist with Pedestrian Detection is included to help prevent accidents with other vehicles and people.
On the outside, the front fascia and wheels have been restyled to give the sedan a sleeker look. Inside the cabin, you will find a high-tech floating multimedia display featuring an 8-inch touchscreen. Also, the 2021 Toyota Camry is available for the first time as a Hybrid XSE model. Not only does this trim level get better gas mileage, but it also comes with 19-inch Gloss Black wheels for an elegant outward appearance.
2021 Toyota Corolla
Starting at $19,825, the 2021 Toyota Corolla is available as a conventional gasoline-power sedan, a hatchback, and a hybrid. The conventional sedan model is available in five trim levels and two special editions. Featuring the Toyota Safety Sense 2.0 package, every Corolla comes with Pre-Collision Assist with Pedestrian Detection, Road Sign Assist, and Lane-Departure alert with Steering Assist. The infotainment system is displayed on an 8-inch touchscreen and is compatible with Bluetooth, Apple CarPlay, and Android Auto.
The 2021 Toyota Corolla Hatchback starts at $20,465. Available in two trim levels and one special edition, this is one of the few remaining new vehicles on the market that is offered with a manual transmission. It was also named a Top Safety Pick by the IIHS, so it is a great option for small families.
Moving on to the award-winning 2021 Toyota Corolla Hybrid, this model starts at $23,400. With an average fuel economy rated at 53 MPG city and 52 MPG highway, you will be spending a lot less time and money at the pump. Available in a single trim, this vehicle was awarded the 2020 Green Car of the Year award.
But perhaps the most exciting addition is the 2021 Toyota Corolla Apex. This sporty limited edition features a lowered ride height, a revised suspension, stabilizer bars, and 18-inch wheels with high-performance summer tires. It also comes with an aero spoiler and a black-and-bronze body kit for a sleek exterior look. On the inside, you will notice additional connectivity options via Amazon Alexa. New technology includes push-button start, blindspot monitoring, and rear cross-traffic alert.
2021 Toyota Prius
The 2021 Toyota Prius is available as a hybrid and as a plug-in hybrid. The regular hybrid Prius starts at $24,525, and the Prius Prime plug-in hybrid starts at $28,220. Available in seven trim levels, the Prius gets 58 MPG city and 53 MPG highway. It also offers 50.7 cubic feet of cargo room with the rear seat folded down.
On the other hand, the Prius Prime is offered in three trims levels and can get up to 133 MPGe. It can even drive for 25 miles on electricity alone, allowing you to operate it as an electric vehicle for short trips. However, unlike an actual electric vehicle, the gasoline motor means you never have to worry about running out of battery.
2021 Toyota Avalon
Starting at $35,875, the updated 2021 Toyota Avalon is better than ever before thanks to the new all-wheel drive option. Available in four trims levels and one special edition, you can find the perfect match for you. Every model comes with 60/40 split-folding rear seats, blindspot monitoring, and rear cross-traffic alert. They also feature advanced infotainment systems with Bluetooth, Apple CarPlay, and Android Auto for supreme connectivity.
If you prefer a hybrid, you can get one of those as well. Starting at $37,000, the 2021 Toyota Avalon Hybrid gets 43 MPG city and 44 MPG highway. It's also offered a trio of trims that offer similar features to the gasoline-powered Avalon trims.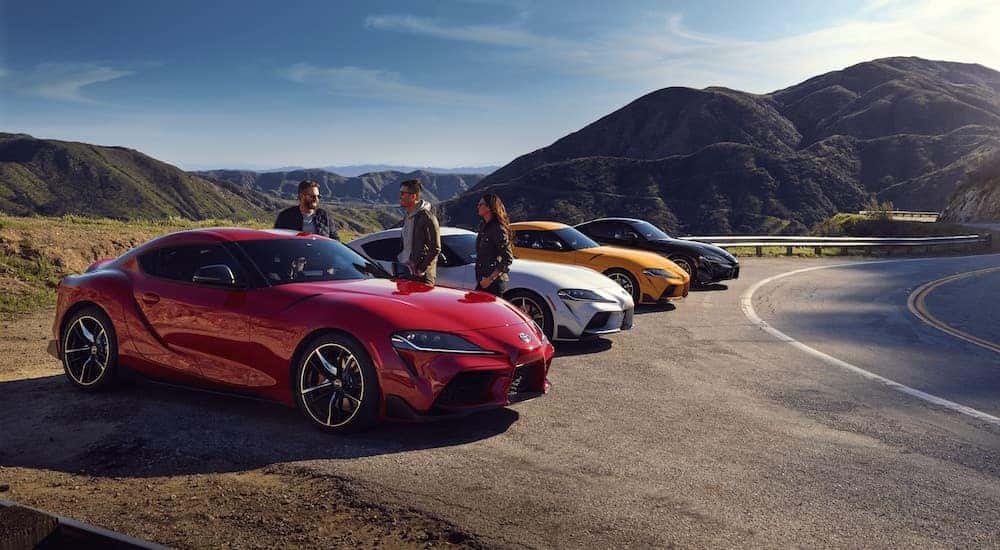 2021 Toyota GR Supra
If you would rather slip behind the wheel of something a bit more exciting, then the 2021 Toyota GR Supra may be your best bet. New for 2021 is a more affordable and lighter four-cylinder version, the Supra 2.0, which puts the entry cost at $42,990. However, the six-cylinder Supra 3.0 also received a new engine with even more power, not putting out an incredible 382 hp and 368 lb-ft of torque.
The A91 Edition is our personal favorite. It comes with Blue and Black Alcantara leather-trimmed sports seats with blue contrast stitching. Attached to the rear is a carbon fiber duckbill spoiler for that added touch of athleticism.
2021 Toyota Tacoma
Starting at $26,150, the 2021 Toyota Tacoma is the perfect light-duty truck for all of your daily driving needs. Available in six trim levels, there are even three TRD off-road models designed specifically for performance and adventure. A 6-speed manual transmission is available, and the TRD Off-Road trim comes with Bilstein shocks, an electronic locking rear differential, and crawl control for optimized performance in the wild.
2021 Toyota Tundra
Starting at $33,675, the 2021 Toyota Tundra is the ideal ride for heavy-duty jobs. Available in six trim levels, including the 1974 Edition and the TRD Pro model, you can find the perfect match to suit your needs. The maximum towing capacity can be bumped up to 10,200 lbs with the appropriate towing package, and this model can manage a payload of 1,730 lbs.
2021 Toyota C-HR
If you are looking for an affordable compact crossover, the 2021 Toyota C HR starts at $21,445. Available in four trims, this model can seat up to five people. Every trim comes with the Toyota Safety Sense 2.5 package and advanced smartphone integration via Apple CarPlay and Android Auto. The second trim and above add blindspot monitoring and rear cross-traffic alert as well.
2021 Toyota RAV4
There are currently three 2021 Toyota RAV4 models. These are the gasoline-powered version, the hybrid, and the Prime (plug-in hybrid). The regular RAV4 starts at $26,050 and is offered in six trims. Each model comes with driver-selectable modes that include normal, mud, sand, rock, dirt, and snow.
The 2021 Toyota RAV4 Hybrid gets 41 MPG city and 38 MPG highway. Starting at $28,500, this model is available in five unique trims. It also comes with electronic on-demand AWD that will send power to the appropriate wheels when needed.
Finally, the all-new RAV4 Prime is the plug-in hybrid starting at $38,100. Getting up to 94 MPGe, you'll be hard-pressed to find another SUV that gets mileage like this, and it can travel up to 42 miles on electricity alone. However, RAV4 Prime is not just efficient – with 302 hp, it is the second-fastest vehicle in the 2021 Toyota model lineup, after the GR Supra.
2021 Toyota Venza
The all-new 2021 Toyota Venza is also classified as a compact crossover. But starting at $32,470, it is more luxurious than the RAV4. It is also a hybrid model that gets 40 MPG city and 37 MPG highway. Offered in a trio of trims, every model comes with the Toyota Safety Sense 2.0 package.
2021 Toyota Highlander
If you are looking for something bigger, the 2021 Toyota Highlander is a solid pick. Offered as a gasoline-powered model and as a hybrid, this SUV starts at $34,810. The gas-powered version is available in six trims, and the hybrid model is offered in four. They all come with the Toyota Safety Sense 2.5 package, and the seating capacity varies from seven to eight people depending on the configuration.
2021 Toyota 4Runner
Starting at $36,340, the 2021 Toyota 4Runner is a full-size SUV that is better geared for off-roading adventures. Available in six unique trims and three special editions, the 4Runner is a very popular vehicle. Every model features rugged body on frame construction, advanced smartphone integration, and the Toyota Safety Sense P package.
2021 Toyota Sequoia
The largest SUV that Toyota offers is the 2021 Sequoia. Starting at $50,100, this vehicle can carry up to eight people. Available in six trim levels, each one comes with Toyota Safety Sense, the Smart Key System with Push-Button Start, and compatibility with Apple CarPlay and Android Auto. Other features like heated/ventilated seats and moonroof can be found on higher trims.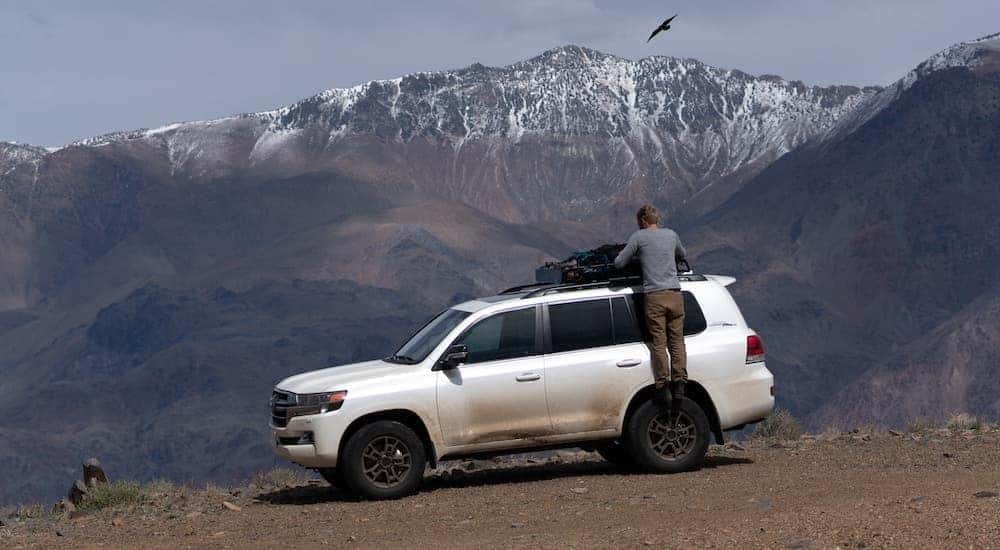 2021 Toyota Land Cruiser
The 2021 Toyota Land Cruiser is one of our favorites this year. Starting at $85,415, this model pushes the brand into the realm of luxury. Available in two trims, it comes with a V8 engine, a 9-inch touchscreen interface, a 14-speaker JBL stereo, and a navigation system. Designed to conquer the toughest terrains, you can take this model anywhere!
2021 Toyota Sienna
If you are looking for the perfect family vehicle, the 2021 Toyota Sienna is a great choice. With seating for up to nine people and the Toyota Safety Sense 2.0 package, you won't find a better minivan out there. What's even cooler about this model is that it is an all-wheel drive hybrid for excellent fuel economy and bad weather performance. Featuring bulging fender flares and 20-inch wheels, this sleek ride doesn't look like the average minivan.
2021 Toyota Mirai
Do you really want to turn heads? Completely redesigned for 2021, the Toyota Mirai is one of only three hydrogen fuel cell electric vehicles available on the market. Riding on 20-inch alloy wheels and featuring silver or bronze exterior accents, this sophisticated ride emits zero emissions and can be refueled in a matter of minutes. It also comes with an advanced infotainment system displayed on a 12.3-inch touchscreen interface. The front and back seats are heated and cooled for comfort all year long, and the Head-Up Display projects vital vehicle information onto the windshield so that you don't have to take your eyes off the road.
Find a 2021 Toyota Model Near You
Are you interested in test driving one of the 2021 Toyota models? Here at Colonial Toyota, we've got the best selection of new vehicles. From sedans and SUVs to sports cars and trucks, we can provide you with everything that Toyota offers. Give us a call to learn more or pay a visit to our Indiana dealership for a test drive today!